Avantasia
The Metal Opera
We have just reviewed the end of an Avantasia story and now we look back, way back to the beginning of another, we are set to complete the entire discography of Avantasia with reviews of all their studio albums. This was the record that begun everything back in 2000. It all started in 1996 with the album Vain Glory Opera by Edguy where Tobias got the idea with classical elements and guest singers and it was then all finished and released in 2000, in November. This first part is simply called the Metal Opera and is part one in a two-part story.
On the guest list of this record we notice some well known people from this genre like Kai Hansen, David DeFeis, Michael Kiske, Sharon Den Adel to name a few. It is an impressive guest list for a not that known guy who makes his first opera inspired metal opus.
Musically it is quite in line with the genre that is sometimes called power metal with speedy music and catchy choruses, even more so with this first part than the later opuses that came later. The production is clean and there are some hints of classical pieces looming in the background of everything. There are traces of Tobias' main band Edguy but it is still so different that we easily notice that these are two separate acts.
The production may not be quite as high class as the one by Sascha Paeth but it is a solid production that does not interfere with the music or anything else. Already from the first tone we notice that this will be something very worth listening to and enjoying. It all starts with an intro track before it changes into the track called Reach Out For the Light which is a great track. Then it continues in the same vein all the way through the record. I especially like the title track called the same name as the band, Avantasia which is usually found in most Edguy shows these days. A really good track it is none the less.
This record have certainly aged gracefully during the almost ten years it has been out and it has recently been re-released in a package together with the second part of this opera. If you do not own this one it may be the chance to get it in a nice new package, the record we re-released in 2008, I wonder if it will be another re-release in november when it celebrates its tenth anniversary.
This record is certainly an excellent record, a record with wonderful melodies and powerful songs with great vocal parts, it certainly holds a good place among the better records released over the years and certainly a great start to the Avantasia story.
If you don't already have this album, get it!
HHHHHHH
Label - AFM Records
Three similar bands - Edguy/Freedom Call/Aina
Rating: HHHHHHH
Reviewer:
Daniel Källmalm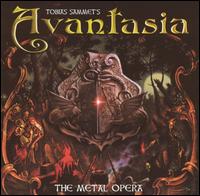 rage1.html