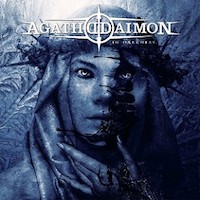 Tracks
1. In Darkness (We Shall Be Reborn)
2. I've Risen
3. Favourite Sin
4. Oceans Of Black
5. Adio
6. Somewhere Somewhen
7. Dusk Of An Infinite Shade (Amurg)
8. Höllenfahrt der Selbsterkenntnis
9. Adio - Acoustic Version (Bonustrack)

Band:
Ash - Vocals
Sathonys - Guitars, Clean Vocals
Thilo Feucht - Guitars
Till Ottinger - Bass
Manuel Steitz - Drums

Discography:
Tomb Sculptures (1997)
Blacken the Angel (1998)
Higher Art of Rebellion (1999)
Bislang [EP] (1999)
Chapter III (2001)
Serpent's Embrace (2004)
Phoenix (2009)

Guests:

Info:
Produced at Kohlekeller Studio by Kristian "Kohle" Kohlmannslehner
Artwork by Hicham Haddaji of Strychneen Studio
Released 2013-06-28
Reviewed 2013-06-15
Links:
agathodaimon.de
myspace
youtube
massacre



The benevolent demon is back with a new album founded in complete darkness judging by its title. It is the sixth album of this German band considered the nation's class act when it comes to the darker reaches of metal. In Darkness this album is called and it follows the 2009 piece called Phoenix which was a fascinating album yet a bit long and a bit lacking in the top of the line of songs, the best was great in that though so there are things looking interesting for this album. This new album also has a blue cover artwork much like the earlier album albeit with a different motif than Phoenix. So has the four year wait for this album been worth it?
It is black metal of the melodic kind, the mix between clean vocals and abyssal grunts. The sound is quite dynamic and it transgresses the dark and the lighter in a fairly interesting way. The production once again done in a coal cellar is excellent and brings out these dynamics quite well, though I would have to say that this album despite its dynamics is rather unvaried which is a bit strange. The album has nine tracks of which one is a bonus track that is an acoustic version of a track we have heard earlier in the album, it plays for 47 minutes if you count the bonus track. So they have shortened the playing time from the previous album which is good.
A solid album is what this is. Strong production, good sound, good performances. A good album I would have to say about it, but then again I am a bit underwhelmed despite the many great parts of the album. Strangely so I have to say. The best thing about it is the track called Adio, both the track in the list and the even better acoustic version that ends this album on a real high note. So there are some high notes I really like but the album as a whole is strangely ordinary. It is good but nothing spectacular is something of a description that I feel is quite accurate.
I don't think it is an album that will disappoint anyone, it works well as a moments entertainment and if you are into the band or the genre you will most likely get more out of it than I get. I think they do well and they are a solid band these guys so for fans of the genre it is definitely something to think about. A bit more aggressive and heavy than Phoenix, a bit straighter but still very melodic black metal and still good. I like this album, maybe not one of the absolute best from this year but good nonetheless.
HHHHHHH