Tracks
1. An mein Ende
2. Kein reiner Ort
3. Herzschlag
4. Herbst
5. Ad Astra
6. Ardeo
7. Ich hör nichts mehr
8. Soweit wie nötig
9. Lichtschimmer
10. Hinter deinen Augen
11. Der Reisende

Band:
Hotti - Gesang, Gitarre
Joe - Drehleier, Akkordeon
Nik - Dudelsack, Flöte
Tilman - Gitarre
Sane - Gitarre
Oli – Bass
Stefan - Schlagzeug

Discography:
Hoffnungsschimmer (2008)
Am Rande Der Welt (2009)

Info
Released 26/11-2010
Reviewed 8/12-2010

Links:
nachtgeshrei.de
myspace
Youtube
massacre

German band Nachtgeschrei are quite an active band with three releases over the last three years which is something impressive in itself only that. This new release is called Ardeo which is latin for "I burn" and it has a yellow cover with some cool features on it which is made by the same artist as the previous cover and at the same time it is in the same style which make the legacy to Am Rande Der Welt apparent.
Musically it is in the same style as Am Rande Der Welt with the medieval sound in the melodic metal and the music is sung in German despite the change to a latin name. The band seem to have a focus towards making complete songs and working hard to avoid making anything stand out, it is more like they focus on making the songs rather than trying to sell an image or atmosphere, not that any of those things are missing from the band anyway. This new album by these seven Germans have eleven songs and lasts for about fifty minutes.
I like these eleven songs on this album they are really good songs that works more or less as well as the tracks from the prior album. Musically there is just a slight difference between the records in the fact that Ardeo is a little more fast paced than the album before it which is an album I liked quite a bit when I reviewed that one a year or so ago. This faster playing is something one notices from the get go in the first track An Mein Ende which is a good opening track which creates a positive vibe for the record.
I do like all tracks but two of them are slightly better than the others, track number three Herzschlag and number ten Hinter Deinen Augen which kind of stick with you more than the other tracks on this record.
For me there is one small niggle with this album and that is the fact that it is so similar to the one before, these tracks could have been from that album as well. That goes also for what I write in the review and wrote back then, it could well have been just copied in here for convenience and it would ring as true as what I write in this review. This is however a bit of nitpicking since this album is a very good one and in a selection of which to play I would pick this one since it is slightly better on all accounts not just good enough to merit a higher rating than the one before and in a sense it is a bit sad that it is not more different. I think a band should make distinct albums that differs from one another, sure many good albums may be okay as well but I tend to like bands that reinvent themselves more than bands that doesn't.
I am not saying that Nachtgeshrei isn't reinventing themselves but that it goes at a slower rate than many other bands that do. As for which band that is the most interesting in the medieval metal genre I would say that Nachtgeschrei are clearly making a stand with Ardeo with another solid and really good album. It would seem that this band is a dependent maker of good albums, well until the next album at least.
HHHHHHH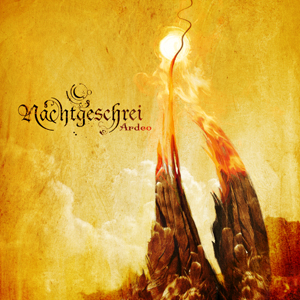 rage1.html