Vengeance - Soul Collector
Tracks
1. Cross in the Rain
2. Wait Until the Sun Goes Down
3. Soul Collector
4. Samurai
5. What the Hell is Going on
6. Myspace Freak
7. I Never Felt That Way Before
8. Dance Dance Dance
9. Rock and Roll Band
10. So Many Times
11. Lean on Me

Band:
Leon Goewie – Vocals
Barend Courbois – Bass
Jan Somers - Guitars
Timo Somers - Guitars
Erik Stout - Drums

Discography:
Vengeance (1984)
We Have Ways to Make You Rock (1986)
Take it or Leave it (1987)
Arabia (1989)
The Last Teardrop 84-92 (1992)
The Last of the Fallen Heroes (1994)
Back From Flight 19 (1997)
Rock N'roll Shower, best of (1998)
Wings of an Arrow (2000)
Back in the Ring (2006)
Same/ Same... But Different (2007)


Info
Produced by Michael Voss

Released 1/23/2009
Recenserad 2/9/2009
Revenge, vengeance, retaliation and so forth, can be said to be the synonyms that are associated with the band name of the legendary Dutch rock band. I know this band by name and reputation as I have spoken with one of the former members, the well known Arjen. Arjen who of course is Arjen Anthony Lucassen who are known as the mind behind quite successful Ayreon, he was once a part of this band. Also, the singer Leon Goewie did some unforgettable vocal parts of the first Ayreon album and for that he remains one of my favourite singers, before I heard this record I wondered if he would be as good. How he did you will get to know soon.
Guess I should state that I have never heard Vengeance before I started this record in the car on my way south. Maybe that is a good thing as I have no relation to the band from before as I don't have any nostalgic ideals to disturb my liking or disliking of this new record, but how was it? Like or Dislike? Read on.
Anyways, musically Vengeance stand on the rock looking out over the lake, well they have their feet firmly rooted in the rock genre anyway. Hardrock you might say since it is quite on the powerful and heavy side, still with melody and atmosphere and at times you can feel the spirit of Arjen's music in the mix, but then again that might have something to do with the fact that he has been a guest writer for this record, Mat Sinner and the Producer Michael Voss has also been writing material for this album. An album that musically produce close to a wall of powerful rock music but as I stated it still has a very melodic and atmospheric side. An intriguing mix to say the least.
But then, how does this record stand? Is it really any good? Well, yes it is! The vocals by Leon Goewie alone is reason enough to like this album but the songs in here are really good. They are powerful, strong, massive, melodic, impressive and so forth, I was sold at this record from the first time I heard the opening track Cross in the Rain in my car on the way south and then the next time when I was going back north. I find myself digging songs like the opener, the title track and all the other tracks, there aren't any real poor songs, there are mostly great songs and all deserves a credit but it would really be a waste of space to write too much about it, I think it is enough with the statement that this record has really good tracks.
Well, to end all stuff about this record I just state that this is a really good record, I really think you should do yourself a favour and buy this record, you will not regret it.
HHHHHHH
Label - Metal Heaven/Sound Pollution
Three similar bands - Led Zeppelin/Joe Lynn Turner/Deep Purple
Rating: HHHHHHH
Reviewer:
Daniel Källmalm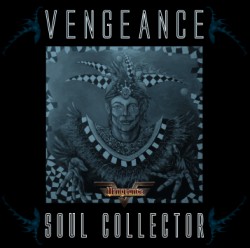 rage1.html