Avantasia - The Scarecrow
Tracks:
01. Twisted Mind
02. The Scarecrow
03. Shelter From The Rain
04. Carry Me Over
05. What Kind of Love
06. Another Angel Down
07. The Toy Master
08. Devil In The Belfrey
09. Cry Just A Little
10. I Don't Believe In Your Love
11. Lost In Space
In the closing days of the last year we saw the first sign of life from Avantasia in a long time with the dual EP-releases Lost in Space. Now we are given the highly anticipated album called the Scarecrow, the first album by Avantasia since 2002. This time with a slightly different theme from Tobias Sammet who will also headline the Wacken festival with his band of Star singers.
The Scarecrow is about a guy who can only communicate through the art of music and so forth, you will know more of this if you read my article. In this review I am going to focus on the musical; this is a rock opera, actually one of two anticipated rock operas released this January, the second being Ayreon of course. As I first heard this album I figured it would be tough for any album to beat this in 2008, but that was before I heard Ayreon, which was miles ahead, if not lightyears. That however doesn't mean that this is bad, rather the opposite.
Musically Avantasia is metallic with a big emphasis on the guitars and with plentiful of keyboards accompanied by a symphonic backdrop lurking there in the background just to add to the atmospherical side of the music. It has the hallmarks of the demonic producer Sascha Paeth who along with Tobias Sammet stand as producer of this album, and there is no possible way to complain about the production of this album. The sound is very strong at it has a very nice edge, no doubt this has benefited from the hand of Paeth, who has loads of experience from this field of music.
As this is an opera there are loads of guest singers on this album, most of which are very well known in the metallic field. Most of them has been on the prior albums, but there are some new faces here and it feels quite impressive that Sammet can gather this elite to his albums, maybe not as surprising now that his main band Edguy is well-known, but before it was really impressive and as I said most of them was there at that time as well. The producing duo also manages to get the best out of the singers which delivers a solid package.
Already from the opening hymn Twisted Mind you are caught. Song wise this is miles ahead of what came out in 2001 and -02, songs like besides the opener also the title track, Carry Me Over, I Don't Believe in Your Love and Lost in Space carves that statement into stone.
I find this to be a really good record and you who have peeked at the grade already know this, but may ask why I who sound so extremely positive grades this a six and not a maximum seven. Well, the answer is that a six is a sign of an amazing album that will last for a long time to come. If I were to be shortly negative I can state that this album lacks just a tad of variation, but it is no big deal at all since all these good songs counter that really well and the end result is a very, very good album that I would be surprised to see outside the top ten of 2008 when we summarise that year within about a year from now.
Tobias Sammet has developed from every release he has made, and that makes me really place the upcoming Edguy album on the top of my wish list for whenever it is released.
A great by for Scarecrow and crow alike.
Label - Nuclear Blast
Three similar bands - Edguy/Gamma Ray/Freedom Call
Rating: HHHHHHH
Reviewer:
Daniel Källmalm
Guests:
Roy Khan (V)
Jorn Lande (V)
Michael Kiske (V)
Bob Catley (V)
Henjo Richter (G)
Kai Hansen (G)
Amanda Somerville (V)
Alice Cooper (V)
Oliver Hartmann (V)
Rudolf Schenker (G)
Michael "Miro" Rodenberg (K)
Info:
Produced by Sascha Paeth and Tobias Sammet
Band:
Tobias Sammet - Lead vocals, bass
Sascha Paeth - Rhythm & lead guitars
Eric Singer - Drums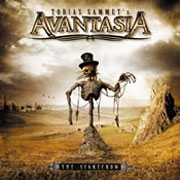 Discography:
The Metal Opera Pt1 (2001)
The Metal Opera Pt2 (2002)
Lost In Space Pt1+2 [EP] (2007)