Avantasia - Lost in Space
Tracks
:
Part I:
1. Lost in space
2. Lay all your love on me
3. Another angel down
4. The story aint over
5. Return to Avantasia
6. Ride the sky
Part II:
1. Lost in space
2. Promised land
3. Dancing with tears in my eyes
4. Scary eyes
5. In my defense
Lost in space - Alive at Gatesudio
Mr Sammet (Velvet in Swedish) is back with new material on his Avantasia project. Two parts EP before the upcoming album that is called the Scarecrow. With some material from the upcoming album, some unreleased and some covers, two EP:s both to the prize of one single.
Epic, symphonic metal with lots of singers is what we are given here. It is heavy, melodic with harmonies and symphonies, harmonic vocals and choirs all inspired by works of old great composers like Verdi or perhaps Beethoven. It is often quite fast and well produced.
In one sense there is not much that is different from what we have heard before, in another sense it is different in what way I cannot really point out. It may be the covers that makes it so, but it may as well be something else in the self-written songs that gives this feeling. Speaking of the covers, there is one ABBA song, one song by Lucifer's Friend one by Ultravox and Queen, we will get back to that later in the review.
Sammet has as usual brought together an interesting line of recruits for this album and they perform at the top once again, just like the two-part Metal Opera story. I am quite impressed with what they do with this two-part thing that features a lot of interesting songs that promises quite a lot for the upcoming album dubbed The Scarecrow.
Thinking about the songs I would say that there are not really any poor songs but the real top songs are not a majority either. I would say that the two great songs are the title Lost in Space and the ABBA cover Lay All Your Love on Me, the cover is about as good as the original.
Sammet once again have created interesting material and I am already looking forward to the album. An album that may reawaken your ABBA-fanhood, I think not; but this EP may.
Label - Nuclear Blast
Three similar bands - Edguy/Gamma Ray/Rhapsody
Rating: HHHHHHH
Reviewer:
Daniel Källmalm
Info:

Band:
Tobias Sammet
Sascha Paeth
Hejo Richter
Michael Rodenberg
Eric Singer
Amanda Somerville
Jorn Land
Bob Catley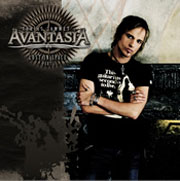 Discography:
The Metal Opera - (2001)
The Metal Opera Part II (2002)