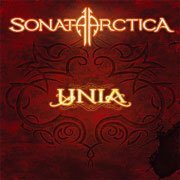 Tracks
:
1. In Black And White
2. Paid In Full
3. For The Sake Of Revenge
4. It Won't Fade
5. Under Your Tree
6. Caleb
7. The Vice
8. My Dream's But A Drop Of Fuel For A Nightmare
9. The Harvest
10. To Create A Warlike Feel
11. The Worlds Forgotten, The Words Forbidden
12. Fly With The Black Swan
13. Good Enough Is Good Enough

Band:
Tony Kakko - Vocals / B. vocals
Jani Liimatainen - Guitars
Tommy Portimo - Drums
Marko Paasikoski - Bass
Henrik Klingenberg - Keyboards

Discography:
Reckoning Night 2004
Winterhearts Guild 2003
Silence 2001
Ecliptica 1999

Recording info:
Recorded at Tico Tico Studio by Ahti "onneks ei olla ens levyn biisejä soittamassa" Kortelainen
Guitars and acoustic guitars recorded at Sonic Pump Studio by Nino Laurenne
String and Hammond organ recorded at Studio 57 by Pasi Kauppinen
Vocals, backing vocals and keyboards at 2ndrate Soundcave by T. Kakko
Guitarsolos at Jani's Lair by J. Liimatainen
Keyboards and k-board solos at The Lanceland Room by H. Klingenberg
Mixed at Finnvox Studios by Mikko "intialaisetkin voi innostua täst musasta" Karmila, while Tony and Marko drank coffee.
Mastered at Cutting Room by Björn Engelmann
Selestina choir on "In Black and White", "Under Your Tree", "To Create A Warlike Feel" & "Caleb" conducted by Tarja Vanhala
Choir arrangements by T.Kakko
My first reaction when hearing the opening track Black and White through the earpieces of the iPod is that it is very different for Sonata Arctica. It is different but still the same band, they are recognizeable but it isn't as before. We see a fresher side of the Finns and they prove that Finland can provide more them just monsters. Some people who claim to understand say that SA sound like anyone else in the so-called power metal fissure, but I claim that no other band sound like SA, they have a unique way to bring out their music to the listener.
SA provide us with melodic metal/hardrock with very much atmospherical keyboard influenses and with interesting guitar sounds that clearly waiver from the regular power sound. The high pace have often been a factor in the Sonata Arctica sound, even their ballads have been quite fast, faster then the normal ballad in the genre anyway if a genre is applicable gor these guys. The production has always been crystal clear and pop-like. Together with a songwriter and mastermind with to say the least, own style and this crystal clear production together with a good line-up they make up a band that sound like no other band I have heard, and I have heard many bands in my life. That was the picture, it still is the picture to some extent, but the band is more mature now and more brave to waiver even more from the metallic path and try new musical images. And this is all positive; this new wave of Sonata Arctica or NWOSA as it is called is more clever and more interesting then anything from any heavy metal band. I have liked the old way of SA and this new wider reaching musically is not at all appalling, but appealing. I just loved this album from the opening track 'til the closing Good Enough is Good Enough that is the best track on the album.
It would be fair to say that I had huge expectations for this album, and did it pass? Well, did it? Of course it did, sure Reckoning Night was Excellent, but this is something else… something deeper and more spiritual, I was in most parts blown away by the excellence by which these Finnish gentlemen executed this album and it is nothing short of a masterpiece and possibly the best effort by them to this date but I am already in my pajamas, sorry wrong quote there it ought to be: but I am already anxiously awaiting the next album. Then if you like original music and don't listen to Santa Clauses preaching about copies: then I think you ought to get a copy of this album

Guests:
Strings on "Good Enough is Good Enough":
Tuomas Airola - cello
Elar Kuiv - violin
Kati Niemelä - violin/viola
Anna-Leena Kangas - viola
Oskari Hannula - double bass
arranged and conducted by Tuomas Airola
Acoustic guitars, bouzouki, chromaharp, Kavaquinho & Q-chord on
"They Follow", "Under Your Tree", "The Harvest", "It Won't Fade", "Fly With the Black Swan" by Peter Engberg
Additional vocals performances:
"To Create a Warlike Feel" - vocals in Finnish - Jarkko Martikainen
"Caleb" - The Lady in the beginning of - Milla V
"whatevergod..." - "Caleb" and "just passion and rage" - "In Black and White" performed by Starbuck