Guilt Machine -
On This Perfect Day
Tracks
1. Twisted Coil
2. Leland Street
3. Green and Cream
4. Season of Denial
5. Over
6. Perfection?

Band:
Arjen Anthony Lucassen - Guitars, keyboards, backing vocals
Jasper Steverlinck - Lead vocals
Chris Maitland - Drums
Lori Linstruth - Lead guitars

Discography:
Debut

Guests:
Ben Mathot - Violin
David Faber - Cello

Info
Mixed, produced and recorded by Arjen Anthony Lucassen
Mastered by Peter Brussée
Music by Arjen Lucassen
Lyrics by Lori Linstruth
Released 31/8-2009
Reviewed 23/3-2010

Links:
ayreon.com
myspace
mascot

Arjen Anthony Lucassen, the man with the many projects and ideas is back with a new project. A new project that is not as massive an undertaking as Ayreon with the many musicians that are usually part of those things, it is a project with four musicians and with only one singer which reminds more of Stream of Passion which Arjen is no longer a part of.
Musically Guilt Machine also differs a bit from what Arjen usually does since it is darker than Arjens usual style. Lyrically it is no sci-fi or fantasy but about our darker sides, guilts, regrets and those dark secrets that we keep even from ourselves. But despite all these differences from Arjen's regular it still bears the trademarked style I have come to expect from what Arjen does. It is dynamic and variet, atmospheric and so forth. It feels like a signature Arjen piece of art.
The record starts with a track called Twisted Coil which is a rather long track, over ten minutes long. Fact is that all the tracks of this record are quite long with the shortest track clocking in over six minutes long. The record is only six tracks long but still over 57 minutes long which usually indicates a record that is a bit long but in case of Guilt Machine it actually feel like I want to have more minutes, 57 feels a bit short in this case. I can really say that musically Arjen has succeeded once again. The many variations and atmosphere of the record makes it work despite the long time it goes on.
I will go so far that I call this a piece of art much like the cover which as usual when it comes to something with Arjen is masterful and really conveys what we are to expect from this record. It is all impressive indeed and despite me missing out on its release it is still something worth buying and definitely a wake up call for me to check out the website of Ayreon more often so I don't miss out any more.
All the tracks are quite impressive as in wonderful. They are not those hit tracks that get stuck at once and then stick with you for a long time but impressive pieces of art that always leave you with a new experience and though when they are done. The six tracks are actually a little too few, I would have loved another ten minute wonder then it would have been perfect. Perfect? which incidentally happens to be the last track of the record and the one I like the best much thanks to some of the instrumental parts that really impress me.
The record is as I have come to expect from Arjen, amazing and dark and wonderful and whatever other superlative you wish to add for this record. And when listening to this record I have to thank Arjen for making a record that fit the darkness I carry inside of me. Thanks for that Arjen, a little darkness always seem to brighten my day for some reason and Guilt Machine is a shining beacon of light all alone in my night (sorry for that B5 altered quote), that is ending a review
HHHHHHH
Label - Mascot Records
Three similar bands - Ayreon/Star One/Stream of Passion
Rating: HHHHHHH
Reviewer:
Daniel Källmalm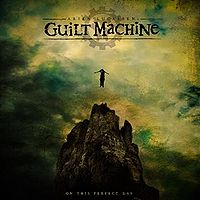 rage1.html