Tracks
1. Xibir
2. Born Treacherous
3. Gateways
4. Chess with the Abyss
5. Dimmu Borgir
6. Ritualist
7. The Demiurge Molecule
8. A Jewel Traced Through Coal
9. Renewal
10. Endings and Continuations

Band:
Shagrath – lead vocals, keyboards & effects
Silenoz – rhythm guitar
Galder – lead guitar
Session members:
Snowy Shaw - bass guitar, clean vocals
Daray - drums

Discography:
For all tid (1994)
Stormblåst (1996)
Enthrone Darkness Triumphant (1997)
Godless Savage Garden (1998)
Spiritual Black Dimensions (1999)
Puritanical Euphoric Misanthropia (2001)
Death Cult Armageddon (2003)
Stormblåst MMV (2005)
In Sorte Diaboli (2007)

Guests:
Agnete Kjølsrud (ex-Animal Alpha, Djerv) - female vocals (on tracks 3 & 10)
Garm - clean vocals (on track 10)
Gerlioz - keys
Andy Sneap - leads (on tracks 3 & 9)
Ricky Black - slide guitar (on track 10)
Orchestration and choir arranged by Gaute Storås and conducted by Rune Halvorsen
Recorded with the Norwegian Radio Orchestra
Schola Cantorum - choir

Info
Mixed by Andy Sneap and Dimmu Borgir
Mastered by Andy Sneap, Russ Russell and Dimmu Borgir
Engineered by Daniel Bergstrand, Russ Russell and Shagrath
Joachim Luetke - cover art
Released 27/9-2010
Reviewed 19/10-2010

Links:
dimmu-borgir.com
myspace
nuclearblast

The Norweigian band with an icelandic name Dimmu Borgir (named from a lava formation on Iceland and means about dark fortress for you who wish to know) are back with their ninth album called Abrahadabra which feature a big ugly head on the front. It is also the first album by the band that I have really gotten to know.
I have not really liked what I have heard before even though people say that the band are sell outs and whatever, the songs I have heard have always been dumb and dark and evil and whatever else that is bad with primitive black metal.
This album is much more symphonic and majestic with choirs and the likes of that than the regular black metal. I am not saying that it is not black metal but it is of the more melodic sort. The vocals are predominantly in the black region of things but there are also clean male vocals as well as female vocals and choirs as I have already mentioned. It was fun to read the comments to the video of Gateways on Youtube how all the haters complained about how they have been failed by the band and that they were better before and how they should be monotone with the same guitar line going through the record over and over and with screaming vocals about nothing good at all, rubbish music is what they want. Endstille, Immolation, Portal are three bands I can think of from the top of my head that probably will suit those people, I hate that kind of music though.
This record is actually a very good record with a dark menacing atmosphere and with a nice balance between the elements in the music and for the first time I can listen to something by this band without throwing up, I am sure they have done good music in the past though, I just have not heard it yet.
This album has ten tracks and ends on a real high note with Endings and Continuations which is the best track on the album, it has a great melody and a brilliant atmosphere and it makes you return to the album and it makes a lasting impression as well, that is the wise things with ending on such a high note; you want to play it again. Another great track is the video track which is especially good when you reach the end of it, but the track is great all the way through, the video is rather silly and ridiculous though but I don't care much for videos anyway. Worth mentioning on the song department would also be that the band has a track named Dimmu Borgir on this record and it is not a bad song, it has a nice feel and it is good but not as good as the previously mentioned tracks, still a good one though.
The record through works really well and the excellent parts are really well spaced making the experience good all the way through the record. The record is about 45 minutes long which is about right for this particular album and all in all there is not much to complain about at all, I am quite happy that the band are doing a Metallica and Slayer as someone commented on the video, for me doing whatever you care for is not a sell out, the only way to sell out is to let other dictate what to do and I am actually quite sure that many of the so-called true black metal bands are just keeping on doing the same album because of their fans and not because they want to but that is another story.
So for me as a music lover this is a really good album that I will still play after this review, for you who likes music this is worth giving a chance. For those of you who long for a man with a painted face and long dirty hair who screams stupid stuff about satan with monotone guitars in the background, it probably isn't your thing. Thank you Dimmu Borgir for not listening to the idiots.
HHHHHHH
Label - Nuclear Blast
Three similar bands - Old Man's Child/Cradle of Filth/Mayhem
Rating: HHHHHHH
Reviewer:
Daniel Källmalm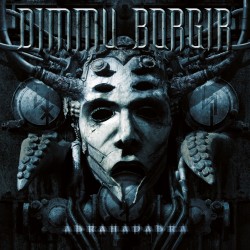 rage1.html