Winterborn - Farewell to Saints
Tracks
1. Black Rain
2. Chaos Dwells Within
3. Seven Deadly Sins
4. Overture 1939
5. The Winter War
6. The Land of the Free
7. Emptiness Inside
8. Nightfall Symphony
9. Last Man Standing
10. Another World

Band:
Teemu Koskela: vocals
Pasi Vapola: guitar and backing vocals
Jukka Hänninen: keyboards and backing vocals
Pasi Kauppinen: bass and backing vocals
Lauri Bexar: drums
Antti Hokkala: guitar and backing vocals

Discography:
Cold Reality (2006)

Info
Produced by Pasi Vapola
Mastered by Svante Forsbäck
Released 05/02/2009
Reviewed 06/01/2009

Links:
winterborn.info
myspace
massacre

Cold and winter, a band born in the winter up in the cold areas of Finland. This actually draws my mind and attention towards another band from the same nation, don't know if they are from the same area in that very nation, of course I am thinking about Sonata Arctica, the band of Tony Kakko.
These two said band are not that dissimilar, they represent in a way the same genre. The genre is what is called power metal, the melodic and speedier part of the genre. You know that part of metal where the speedy melodic guitar riffing alongside the smattering beats of the double kicked drums are the dominating features. But there is a bit of Finnish twist to all of this, you know that dynamic sound of the Finnish metal souls. If you don't know that sound, I cannot really describe it but it is a dynamic, melodic sound.
Musically I like this album as it has a nice clean production and a smooth, nice and powerful sound that I like very much. The problem however is that we have heard this music before, this is still a genre that is quite overcrowded even though the popularity of it and the stream of new band has died out, there are still loads of bands with a similar sound. Had this come in the late nineties I would be overjoyed but this is very much too late to be too interesting.
Not to say that there isn't things to like about Farewell to Saints because there is a lot there that is good and shows loads of potential and remember that this is only their second album, there is still lot of potential that can be realised. In songs like the opening Black Rain we hear the dynamic sound that I like much about this band, it is not present in some of the other tracks on the record. Land of the Free is another track that I like quite a bit, both for the sound and for the interesting lyrics about the United States of America. And another nice track of this record is the one called Last Man Standing which has a memorable dynamic sound and a well thought out chorus. The good tracks really do stand out and these tracks alone makes this record well worth giving some time, but how much time it will get now that I am done with it is another question all together, guess it depends on the flow of new records I get.
Now then, despite these beforementioned tracks, I still feel quite a bit neutral in my attitude towards this record, I feel that it just doesn't stand out enough, I mentioned Sonata Arctica Earlier and looking at these two bands I think I can illustrate why. Sonata Arctica has a very nice quick melodic sound which in itself stands out a bit and they have a very passionate singer who adds lots of power with his voice, and then there is the lyrics, the country men from Kemi really has it all. Winterborn has a sound that borders on standing out but it is not quite there, and their singer suits the music well but he doesn't add the passion and power to the music as Tony Kakko does in Sonata Arctics, they have some interesting lyrics so despite not being too far off their countrymen they lack that edge that gives them the power to stand out.
I believe there is a bright future for this band, a future with their own powerful sound that brings them great success, well maybe does, I am usually not that good at these things but I like some of what I hear. Guess the cold of Finland is a place to find good music after all.
HHHHHHH
Label - Massacre Records
Three similar bands - Sonata Arctica/Stratovarius/Altaria
Rating: HHHHHHH
Reviewer:
Daniel Källmalm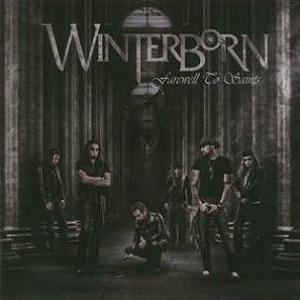 rage1.html