Thunder - The EP Sessions 2007-2008
Tracks
1. Survivor
2. Yesterday's News
3. Chain Reaction
4. Midlife Crisis
5. Dirty Dream (Live)
6. What A Beautiful Day (Live)
7. Make My Day
8. Bette Davis Meltdown
9. I Believe
10. Last Man Standing (Live)
11. Like A Satellite (Live)
12. See My Baby Walking
13. So Sad Today
14. Only You Can Make Me Cry
15. Yesterday's News (Naked Version)
16. I Believe (Missionary Position Version).

Band:
Danny Bowes - lead vocals
Luke Morley - guitar and vocals
Ben Matthews - guitar and keyboards
Chris Childs - bass guitar
Gary 'Harry' James - drums and percussion

Discography:
Backstreet Symphony (1990)
Laughing on Judgement Day (1992)
Behind Closed Doors (1995)
The Thrill of It All (1996)
Giving the Game Away (1999)
Shooting at the Sun (2003)
The Magnificent Seventh (2005)
Robert Johnson's Tombstone (2006)
Bang! (2008)
Released 05/22/2009
Reviewed 09/06/2009
British thunder, roaring and lightning strikes and so forth. Wait a minute, of course this has nothing to do with thunder and lightning, this is a band that releases a compilation of tracks from EPs released in 2007-2008 as the title suggests. Compilations and stuff can be boring of course but why not collect EP and single tracks into a record? I think that should be done more often to eliminate the need to buy so many EPs, why don't bands who release many singles/EPs collect them in one record every few years, maybe with one or two bonus tracks? I know I would like it, this is a good idea I think.
This record actually marks the end of an era, the era of the band who have decided to call it quits after a summer tour to say goodbye this summer. Most of the shows on this tour are sold out already so good luck if you wished to be there and haven't already got tickets. The album contains some EP-tracks, some new versions of older songs and some live tracks, something in that fashion. Guess you know the idea of what it is.
So, how about the music now that I have talked about all other crap? Well, the music of thunder belongs in the sub-genre some people like to call arena rock, you know that pompous powerful rock music with choruses that everyone can sing-along with, something that is made for the big arenas and I suppose that is where the music of Thunder also fits.
Thunder is a band with about 20 years of experience, they were founded back in 1989 and had a break in the 2000s before mounting a comeback and now they have decided that they are too old and will leave it to the younger generation. It probably isn't so but hopefully it is. This because we all know how ridiculous it all is with retired people singing rock music about rebellion, or near-retired is just as bad imagine Iron Maiden for a while, a gang where everyone is older than my father who plays heavy metal, that doesn't work too well for me. And therefore I applaud Thunder for their informed decision to call it quits before they too turn into relics like many other rock band of today.
So what about this final effort from Thunder? Well, this British band has made a very good record. Though I was a bit doubtful in the beginning, didn't like the singer, his voice bothered me at first but he grew on me and I can now understand that his vocals works rather well for this record. The production is slick and suits the mood of the music very well, even the live tracks sounds well-produced and not amateurish like many other live tracks, especially on bonus- or EP-tracks. The songs are also working well with many powerful choruses and a few stand out tracks that makes you realise that this band might actually be worth to check out, after all they have done a few albums during the years.
The opening track is something of a hit, it is called Survivor and it makes this record survive the ever important first impression. Next track to catch my attention is the third track called Chain Reaction which is a powerful track, oddly enough I don't find the second track Yesterday's News to be interesting. In the end however there is a naked version of the same track which for some reason stand out as a good track, so they got it right with a few hit songs and good songs overall which makes this record earn a score well above average.
So, this final effort by the thundering guys is actually well worth spending a few bucks, pounds, euros or whatever currency you use on. The tracks are strong and you might actually find yourself singing along in some of the tracks and you might actually feel like your missing out now that it will all end for this band, but remember there are always the older records, I mean I have a few records by other bands and don't even remember how a few of them sound. It is always fun to look back.
This is a fine end of what might have been a great career.
HHHHHHH
Label - Metal Heaven/Sound Pollution
Three similar bands - Toto/Damn Yankees/Asia
Rating: HHHHHHH
Review:
Daniel Källmalm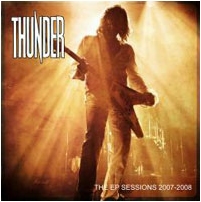 rage1.html