Resurrection - Embalmed Existence
Tracks
1. Disembodied
2. Rage Within
3. Embalmed Existence
4. Smell of Blood
5. Torture Chamber
6. Eyes of Blind
7. Test of Fate
8. Pure Be Damned
9. Storyteller Take # 44
10, Disembodied
11. Smell of Blood
12. Contortion
13. Ritual Slaughter
14. Storyteller Take # 2
15. Rage Within
16. I Die
17. Storyteller Laugh-Track

Band:
John Astl - Guitar
Paul DeGolyer - Vocals
Scott Patrick - Bass
Jerry Mortellaro - Guitar
Gus Rios - Drums

Discography:
1993 Enbalmed Existence
2008 Mistaken for Dead
2009 Embalmed Existence Ltd. Edition Re-Release

Info
Remastered at Morrisound Studio, Tampa, Florida by Jim Morris
Released 03/20/2009
Reviewed 05/27/2009

Links:
resurrection.com
myspace
massacre

Re-release of a classic, a classic album from the sub-genre called Florida Death Metal and this is apparently a classic of the genre. Well I cannot say I have heard about this band, I have heard about the genre from time to time but cannot really place any bands there or anything, so why do I review this record? Well, unfortunately we have no one else to review this album and after all I am quite open with close to any musical style.
Musically this is aggressive music with all what that encompass, like heavily distorted guitar riffing, sinister growling, music with a touch of evil we might say. One characteristic thing about this album's sound is the spoken words part that is now also compressed into one track as one of the bonus tracks on the record.
This previously mentioned spoken word part makes this album a lot more easy to listen to, too much death metal of this kind is usually too much for me as the music is too unvaried. This record is not too interesting to me, actually it is quite dull and boring, once I've heard the spoken word part and know what they say there I am bored with that too. Still I can in a sense see why this is regarded as a classic in its genre, but I cannot judge genres and guess which albums are good there, I write what I think.
This is probably what the Floride style death metal is about with its sinister sound and evil saying spoken word. I however does not like it in any sense, should it be death or anything, music needs to have melodic elements for me to like them. Resurrection lack this melodic side which makes me doubtful to the whole thing and even while giving this album time, I cannot really find much positive about it. It is surely well made death metal but it has nothing that appeals to me.
Resurrection of a classic is not always the best of ideas, perhaps this band has learnt something during the years since the original release, but with these bands you never know. Brutality and no brains makes for dull music.
HHHHHHH
Label - Massacre Records
Three similar bands - Chimaira/Lamb of God/The Dying
Rating: HHHHHHH
Reviewer:
Daniel Källmalm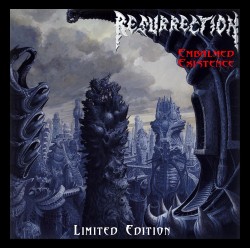 rage1.html