Misery Speaks - Disciples of Doom
Tracks
1. Out Of The Unknown
2. Burning Path
3. End Up In Smoke
4. A Road Less Travelled
5. Disciples Of Doom
6. Obsessed
7. Black Garden
8. Fragile
9. The Swarm
10. Into The Unknown

Band:
Przemek Golomb – vokills
Florian Füntmann – guitar
Stephan Gall - guitar
Martin Grossmann – bass
Janosch Rathmer – drums

Discography:
Misery Speaks (2006)
Catalogue Of Carnage (2008)

Info
Produced by Jonas Kjellgren @ Black Lounge Studio (SWE)
Released 04/24/09
Reviewed 05/01/09

Links:
miseryspeaks.com
myspace
drakkar

Misery speaks, don't you think? Well, my misery does that at least but this one also speaks of dooms disciples and stuff like that, which makes it an interesting misery to begin with, question only lingers if it is? Well, whenever you are ready you check the rating you will know what this reviewer thinks. No matter, I simply cut it from here with the ship's laser, what the hell? Now the movie and TV-quotes follow one another, that doesn't sound right.
Misery Speaks new record sounds heavy and deep beforehand, and surely it is in that genre with deep powerful and distorted guitar riffs, growling singing combined with some clean vocals and along with that we have heavy drums and other heavy stuff. Still I don't feel I describe this in a good enough way but if you have heard a band like Agathodaimon I think you get the idea as they feel very close to this band.
Well, my hard time describing this record can be related to the fact that the record doesn't really grab my attention and whenever it does it fails to hold it for long. Misunderstand me correctly now, I do not think the record is bad or terrible or deserves to be flushed down the drain, no the music is rather good but I feel that the failure to hold me as a listener is a downer. I find myself wondering a bit about the who and the why and I also wonder what to listen to next as I listen to this record. That thing is something that bodes ill and what bodes ill for Jack Sparrow… wait a minute, that didn't come out right, it does not bode well for the rating of this record is what I was trying to convey.
Now then, all is not dark, and miserable some of it is actually rather great and attention grabbing and that something is mainly known as the title track, Disciples of Doom. That track grabs my attention and is as good as a track in this genre ought to be, too bad the rest of the record does not live up to that standard.
So, to illustrate the feel of this record I would say that besides that one track this record don't hold up well to scrutiny, the music is good but it is not saying anything and it is not grabbing my attention one bit which is a requirement to make good music. I say this only because I wish to somewhat by repeating myself and writing hard to pay attention to paragraphs, illustrate how it is to listen to this record, it is fairly well made but it lacks elements to grab the attention.
In the end and to not repeat anything more I just add that this band fails in delivering its misery to the world, actually the fail miserably in all but one track and therefore I would have to say that this record is doomed and will never have much disciples.
HHHHHHH
Label - Drakkar records
Three Similar Bands - Agathodaimon//
Rating: HHHHHHH
Reviewer:
Daniel Källmalm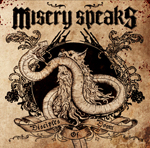 rage1.html