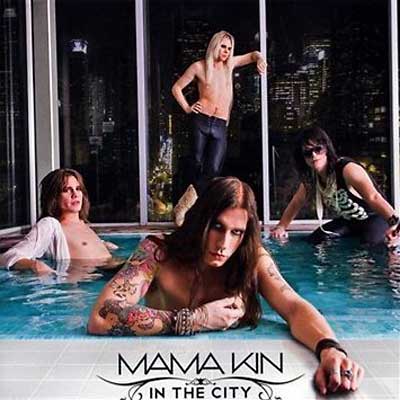 Spår
1. Badge And A Gun
2. In The City
3. You Belong To Me
4. Mrs. Operator
5. Higher & Higher
6. Too Much
7. Fortune & Fame
8. Superman
9. You
10. Champagne, Chicks & Rock N' Roll

Band:
Ward - Vocals & Guitar
Elias - Guitar
Jon - Bass
Edwin – Drums

Diskografi:
Debut

Info:
Rikard Löfgren
Släppt 2009-10-23
Recenserad 2009-10-27

Länkar:
mamakin.se
myspace
leonmusic

For a band that uses an Aerosmith song as a band name, Mama Kin doesn't sound all too different from Kiss. The vocalist Ward sounds like Gene Simmons and the only thing that separate the glam rock Mama Kin plays from being a full blown Kiss copy is the make-up. If you throw in some attitude from motley Crüe, some banality from Aerosmith and groove from Thin Lizzy you have a complete Mama Kin. If you don't know how that would sound, just read on and I'll try to straighten it out for you.
Kiss, Kiss and more Kiss is, however, what dominate. In the information we journalists get they've written (the band or the label or promoter, I don't know who) as a punch line: "This album is like a GREAT BIG KISS for everyone who miss the good 'ol days when Paul, Gene, Ace & Mr Criss were everything!!!" and they absolutely dedicate this album to their heroes. In the City and Mrs Operator could very well be on an Best of Kiss-album and the opening track, called Badge, as well as Gun sounds just like Detroit Rock City in a 21th century remix. Higher and Higher makes me thinking about Kiss early days and the first single, Superman, reminds me more about the Kiss of the 80's, but that's Kiss as well.
It is a little odd that someone makes an album like this, but the more I think about it, the more logical it gets. Kiss is starting to get very old and they'll probably need someone to continue their legacy with the make-up and clothes very soon as they themselves soon won't be able to play their simple rock on their own. And this is wehere mama Kin comes in to the picture.
Mama Kin plays party rock 'n' roll, they play it simple – and that is something they know themselves – but it's just what they want to play. They want to do songs that are easy to sing along to and recognize, guitar lines that are easy to hum to and play, even though they sound a little flashy. The tempo is half fast, not mid-tempo slow yet slow enough to still be mid-tempo, but a fast version of it. What really takes the beat in Mama Kin is the cymbals. Song after song torture the cymbals so much that the drum stick probably will do better as tooth picks after each song than continue to drum with. Even the cow bell gets a run through at the end. My only guess to why us that they in secret love Blue Öyster Cult – the cow bell geniuses in hard rock.
To make some sort of a summarize, I would say mama Kin probably makes the best Kiss copycat that writes their own songs that I've yet lended my ears to. They also makes as one of the best bands I've heard that still lives in the ages of glam rock. Much better than all the bands that plagiarize Skid Row and Mötley Crüe totally, but I don't think it's because they chosen to copy the "right" band – Mama Kin just is a little better than most of the bands that live in the 80's. Even though Kiss is all over the place in each and every mama Kin song, they at least carry their music with the music and doesn't rely fully on an attitude. I don't love what I hear, but it is an album I don't dislike hearing from time to time. There is so much that is wrong with Mama Kin, so much they probably would do better off without than with, but 'In the City' is an OK album that absolutely lives up to what it's made for: Champagne chicks and rock 'n' roll!
HHHHHHH
Skivbolag - Leon Music/Sound Pollution
Tre liknande band - Kiss/Aerosmith/Mötley Crüe (& Kiss)
Poäng: HHHHHHH
Recensent:
Caj Källmalm
rage1.html