Inmoria - Invisible Wounds
Tracks
1. Come Insanity
2. Alone
3. Fantasy
4. As I Die
5. Misery
6. Circle of Memories
7. Haunting Shadows
8. Will to Live
9. The Other Side
10. I Close My Eyes

Band:
Charles Rytkönen - Vocals
Christer Andersson - Guitar
Danne Eriksson - Keyboards
Tommi Karppannen - Bas
Peter Moren - Drums

Discography:
Debut
Released 06/26/09
Reviewed 08/22/09

Links:
inmoria.com
myspace
massacre

Invisible wounds is what's waiting for us and what we are to expect when listening to this album. From Bollnäs in Sweden are these guys, they all have backgrounds in other bands like well-known Tad Morose and Morgana Lefay. Unfortunately when looking at the line-up they don't have Urban Breed on vocals, instead Charles Rytkönen of Morgana Lefay handles the vocal duties of this band. That might not be a bad thing.
Dark power metal is what we can expect if we are to believe what the promotion info states. Possibly that is the musical style of this record, I cannot really pinpoint the style of the band but it is quite dark in the vocal style. The music is also in the darker vein of things. So it is music on the darker side of thing, it also feels like serious things are said in the lyrics. And this even though the band is named after some Lord of the Rings place with in before the name, and we all know that Lord of the Rings is silly.
What's for quality then? Many reviews I have seen just before writing this was positive, on one place they had two reviews that were not that hot really but those two seemed quite strange almost like they hadn't really listened to the album at all, but of course I cannot tell if that is true maybe their opinions just deviate a lot from mine. I find this album to be very good with interesting songs and moods.
The album starts out in the opening track Come Insanity that has a dark feel to it and a strong chorus. Then look at the song titles and you can see the other fine tracks that comes around. Then comes the best track of the record, Haunting Shadows which is an atmospheric track that features female vocals in the chorus, a great track for sure. After that the record ends nicely in a nice bunch of tracks that you can also see at the left side.
I find that I have become a bit positive to many records lately but it seems like only the very good ones that ends up in my hands. Well, better be positive about it, it is fun to write down poor records but it is boring to listen to them. This is not a problem with this record as it is neither fun to write about or boring to listen to. I like this record.
The Swedes manages well to create a record that grabs hold of me as a listener and then keeps my interest for the entire length of the album. A strong album that bodes well for a possible future of this band.
Well done Inmoria, looking forwards to seeing more of you in the future.
Come Insanity

HHHHHHH
Label - Massacre Records
Three similar bands - //
Rating: HHHHHHH
Reviewer:
Daniel Källmalm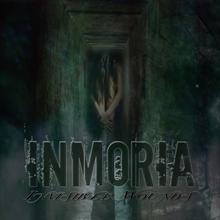 rage1.html