Herman Frank - Loyal to None
Tracks
1. Moon II
2. 7 stars
3. Father buries son
4. Heal me
5. Hero
6. Kill the king
7. Down to the valley
8. Lord tonight
9. Bastard legions
10. Welcome to hell

Band:
Herman Frank - guitar
Jioti Parcharidis - vocals
Peter Pichl - bass
Stefan Schwarzmann - drums

Discography:
debut

Guests


Info
Produced and mixed by Herman Frank

Released on 02/27/09
Reviewed 04/14/09

Links:
hermanfrank.com
myspace
metal heaven

Now then, good old Herman from Hannover in Germany is said to be playing in the first league when it comes to metal. Why is that you may ask, and I will ask the exact same thing but I can also say that the answer lies in the promo text that accompanied the record. I deduct that this thing has to do with Herman's affiliation with big time old rockers Accept, he has also been part of Victory and producer for loads of big bands like Saxon and so on. Many big names when it comes to this guy.
This is Herman's debut in his own name and as a band he as other big names in the musical worlds, people from Accept, Victory, Helloween, Running Wild and whatever else these fellows have played. Now you think old farts and music, can it really be anything to have? Or maybe you think, wow finally some legends making legendary music, whichever you may think it is all written down in this review. You will know which guess is the most accurate, if any?
Now then, what is this musically? Of course it is this clean old, rock'n'metal with straight powerful sound remnant of times long gone. Well, not really but the traces of previously named giants of the German scene is there but they are as deeply buried under the surface as the classical undertones that usually appear in the sub genre that is usually called power metal. Musically this is guitar driven heavy metal with lots of emphasis on melodies, especially the melodies in the choruses with choirs and sing along lines. It is all in all quite different from what the band Accept made when Herman was in the band.
You, who wished for an Accept-clone may be a bit disappointed but then there is always Udo for you, and for you who wished there would be something else than the old farts retirement home music, you are in luck because this feels fresh and modern. The sound is very good and despite the fact that this genre got very diluted with loads of music sounding all the same, this music is actually recognisable which is a very good thing.
I can certainly enjoy and like this record as it sounds all this nice and fresh and the fact that the old is still there not as prominent along with the modern sound makes this a fresh and interesting record in a genre that I gave up hope for a long time ago. However, all is not shining rays of the sun or sunshine, the lack of a real hit song is disturbing and makes the record into more of a solid unity than a solid record with memorable hits. I really miss this monster hit that really lifts the record, for some reason this doesn't exist here. This record don't hold this track to love, but neither does it have anything to hate so I guess there is something of a strength to be unified as this record is.
Still I feel like I'm missing out a little when it comes to this record but still I really like it and find it to be a good way to spend some minutes in front of the computer or something else.
HHHHHHH
Label - Metal Heaven/Sound Pollution
Three similar bands - Accept/Helloween/Running Wild
Rating: HHHHHHH
Reviewer:
Daniel Källmalm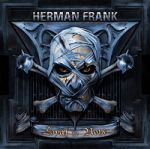 rage1.html