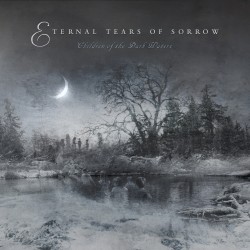 Eternal Tears of Sorrow - Children of the Dark Waters
Tracks
1. Angelheart, Ravenheart (Act II: Children of the Dark Waters)
2. Baptized By the Blood of Angels
3. Tears of Autumn Rain
4. Summon the Wild
5. Sea of Whispers
6. Midnight Bird
7. Diary of Demonic Dreams
8. When the Darkest Night Falls
9. Nocturne Thule

Band:
Altti Veteläinen – lead vocals, bass guitar
Jarmo Kylmänen – clean vocal/backing vocals
Janne Tolsa – keyboards
Jarmo Puolakanaho – rhythm guitar
Risto Ruuth – lead guitar
Juho Raappana – drums
Petri Sankala – drums (on tracks 2, 3, 6 and 11)
Petri left the band after first recording session

Guests
Miriam Elisabeth Renvåg – female vocals
Heidi Parviainen – female vocals

Discography:
Sinner's Serenade (1997)
Vilda Mánnu (1998)
Chaotic Beauty (2000)
A Virgin and a Whore (2001)
Before the Bleeding Sun (2006)

Release 05/22/2009
Reviewed 08/12/2009
Finnish band with a name that you never seem to finish writing, therefore I will call them only ETOS, at least I think so. The name of the album is no different, loads of words and stuff, but these children of dark waters seem to like it that way.
And now for the musical way, the band plays darker doomier extreme metal with their own twist. That means that they have their own sound which make them stand out from most other bands in the genre. There is loads of atmosphere in the music of ETOS as well, they have found an interesting sound that makes them stand on their own feet in a genre that is crowded by copycats and most of those are rather bad and boring as well.
The first thing that strikes me however is the record cover, it is grey and has that amazing look that makes you want to play the record, too bad that you usually can't judge the records by their covers and thinking of that I actually feared that this record would suck.
The prior was however not the case, already from the first track, the opener as I prefer to call it as I don't like to write such long names, I notice that this record will be great and for sure my notice was correct. The songs are good all the way through the album, no track is standing out one way or the other. On this record the before mentioned fact is a good one as this record and the kind of music ETOS makes here stands really well as a record as a whole and it is in its complete form this record is standing at its strongest.
I was thinking out great things to say about this band but as I am sitting down trying to write this down I find that I cannot do that because I think this albums is very strong and there isn't really that much more to say really.
ETOS is a great band, at least on this album and with they cement their position as a top band in the more extreme metal genre.
I can highly recommend this album for all you readers who wants a powerful and purposeful album with excellent songs.
HHHHHHH
Label - Massacre Records
Three similar bands - To/Die/For/For My Pain.../Kalmah
Rating: HHHHHHH
Reviewer:
Daniel Källmalm
rage1.html