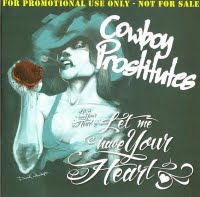 Cowboy Prostitutes
Let Me Have Your Heart
Spår
1. Outrageous
2. Not That Pretty
3. If The Sky
4. Through The Streets
5. Girls Like You
6. Make Things Right
7. Waitin Around
8. Save Our Cities
9. What Shall I Do
10. Up Yours!
11. Finale

Band:
LUCA ISABELLE - Vox/Bass
TOBBE JOHANSSON - Guitar/Backing Vox
JONAS LEWEN - Drums
LAO - Lead Guitar

Diskografi:
Cowboy Prostitutes (2004)
Swingin At The Fences (2008)

Gäster


Info

Release: 2009-09-25
Recenserad: 2009-12-02
Well, a second and last review for this day while Dead Like Me is still playing on my TV. I do not listen to this new album by Cowboy Prostitutes or CP as we call it in short. I have also already heard the songs just over 30 times so I think I know these songs without listening to these songs again while writing this review.
Musically they play some sort of sleaze music or whatever the genre is called, glam rock or something like that with the shouty singing with somewhat catchy choruses, and of course that style they have in clothes or whatever.
I don't like this record, it is plain dull, well I don't hate this record as it is not really bad it is just boring, the songs don't really interest me and the band just seem plain and dull and the production is also quite plain and daft.
In the end this record is dull, the band looks boring, their name is one of the worst in the rock genre and the production is quite dull. Well this record is really not that bad but it is dull and I cannot recommend anyone to buy this album. And with that I will end a short review but there is
Cowboy Prostitutes - Outrageous

HHHHHHH
Skivbolag - Sunny Bastards/Plastic Head/Gordeon Music
Tre liknande band - Bai Bang/Babylon Bombs/Hanoi Rocks
Poäng: HHHHHHH
Recensent:
Daniel Källmalm
rage1.html