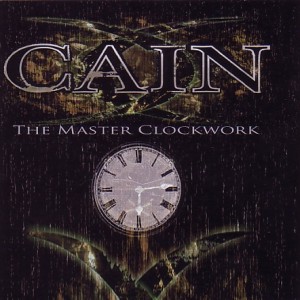 Cain - The Master Clockwork
Tracks
01. Intelligence 101
02. Lost Forevermore
03. The Master Clockwork
04. Level 6:14
05. Red Water
06. Mourning Star
07. Breather Field
08. The Dead and the Calm
09. Sink

Band:
Patrik Stomberg - Vocals
Tobias Jonsson - Bass
Andreas Grauffman - Drums
Stefan Runberg - Keyboards
Joel Eriksson - Guitar
Pontus Lundin - Guitar

Discography:
Debut

Info:

Released 04-2009
Reviewed 3/12-2009
Swedish band Cain a band that now has released their very first album, an album they have financed themselves something that can be a problem as these albums can sound both cheap, boring and poorly produced. Cain's release is promoted by Swedmetal promotion so at least they have some decent promotion even though the record arrived at my place quite late after release at least if I look at the release time on the promo sheet.
Musically this band are situated in the progressive side of the genre. This means that the band provide quite the advanced melodies and tunes of guitar and keys, lots of changes in tact and tune is also something that is quite usual in this genre. I can also point out that this band gives a little divided impression, the lack of focal point is something that is quite obvious when giving this album an ear.
I have a hard time to get a real impression of this album, the diversity is a tad too much for me to get the right focus for this album. I have given this album more than 30 listens and still can't get a real impression which of course is something that cannot be said to be a positive. What is positive is the production which does not sound like a self financed record, it is a production that sound really well.
With that said it is both positive and negative aspects with this record but in the end the impression is still decently positive even though there are many aspects missing in the big picture. There are some good songs like the opening Intelligence 101 which is a good track that sets a tone for the record and it is unlike many other songs it is focused in difference to for example the title track.
So to summarise I can state that this is a rather good record with good production and a good singer which suffers from too much diversity and a lack of focus. I think that with better focus Cain would be a very interesting band.
HHHHHHH
Label - Own production/Swedmetal Promotions
Three similar bands - Evergrey/Dream Theater/Vanden Plas
Rating: HHHHHHH
Reviewer:
Daniel Källmalm
rage1.html