Aggressive Chill - Destination 7734
Tracks
1. Cockroach
2. Done By a Fool
3. Insomnia
4. Empathy
5. Understand Me
6. Outer Edge
7. Red Run Disease
8. Chill Pimp
9. A Moment in Hands
10. Rust
11. Destination 7734

Band:
Mikael Willy Wilhelmsson(V,G)
Krille Kellerman(G)
Robert Ottoson (B)
Tobias R Kellgren (D)

Discography:
Agressive Chill (2008)

Guests
Janne Schaffer (G)
Christer Carlsson (G)
Björn Berge (G)
Pär Karlsson (G)
Björn Bengtsson (V)
Marcos Ubeda (Piano)
Tobias Lindell (Scream)
Tommy Hansson (Strings arr.)
The Prague Symphony Orchestra

Info
Recorded at Bohus Studios
Produced & Mixed by Tobias Lindell
Mastered by Vlado Meller, NYC
Released: 5/10-2009
Reviewed: 27/11-2009

Links:
aggressivechill.se/
myspace
youtube

Swedish guys who seem to like to have been from the united states considering the sound they have. They also seem to have succeeded a bit judging by the many people involved in the process of recording this record, loads of guests, some known some not as known, and such.
Musically as I have stated we have to deal with american style rock music with the same kind of whiskey like singing voice and powerful chords and so forth. Still there are more to the band than that, they also have a melodic side with some symphonic part to really testify to this. So with both the clean and simple rock music as well as the symphonic and melodic side of things, the band has a sound that will be fairly easy to recognise when you have heard them. One can say that they are different yet familiar in their sound.
So, is it any good? Well, I would say that it is, not the best of bands by far but they are still some good listening as the good songs are there, the choruses are as they should be and the vocals fits the music as a glove and therefore I would have to answer yes to that very question.
It is hard to find much to fault this record by, but there is something diffuse, something I can't put my finger on that makes me question it a little bit, it is like I don't want to listen to it when I am to select the music of the hour. It is never a first choice or even a choice that come, but when I listen to it I enjoy it very much but there is that strange feeling that something in this music is not as good as I would have liked it to be, or maybe as I expected it to be.
Compared to last years release I would say that this record stands up really well and it actually quite easily beats the predecessor when it comes to quality. The songs are overall better and there is just a higher standard of music on this album compared to the one before.
The opening track called Cokroach strikes immediately and sets a tone that the rest of the record follow quite well all the way to the finishing title track add to that some prominent Swedish guests and this record has potential to sell quite well, at least here in Sweden.
I feel that Aggressive Chill is closing in on their potential but there are still things, not that noticeable, but they are still there, lurking in the background.
All in all I am positive to this record and can really recommend it to anyone who like good old traditional heavy rock music. It is enough roughness to appeal to the old and enough modern elements to appeal to the young, this record could really sell quite well if promoted decently.
HHHHHHH
Label - Held Music/Triada
Three similar bands - Smeer/House of Shakira/Takida
Rating: HHHHHHH
Reviewer:
Daniel Källmalm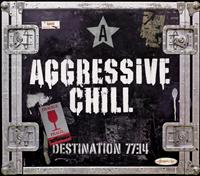 rage1.html