Steel Attack - Carpe DiEnd
Tracks:
1. Carpe DiEnd
2. The Evil In Me
3. I Keep Falling
4. Holy Is Evil
5. Perpetual Suicide
6. For Whom I Bleed?
7. Angels
8. Entrance To Heaven Denied
9. Crawl
10.Never Again
11.Beyond The Light
Swedes Steel Attack are back with their sixth album, the third in the new direction they took following the Predator of the Empire Album. I have been following this band since very Early and still hold the 2001 effort Fall Into Madness as the top of their discography so far.
But how do Carpe DiEnd fare against the earlier material, and what changes in quality did the change in direction really bring for the band. Carpe DiEnd I will return to later on, for now I focus on the quality changes with the new direction. I think that the band really lost in quality due to the change in style, Enslaved was flat out poor and Diabolic Symphony is not much better.
Then, how would this new effort stand in comparison to those already mentioned? Well, it is way better then the 2004 effort Enslaved and the 2006 effort Diabolic Symphony, but it is not in the same league as Fall Into Madness. I would say that this band was at their peak already with that second album, even though it is dragon slaying metal, it still is the best so far.
So now that we have about established Carpe DiEnd in the hierarchy of the band's discography we can move into the details. It is a stylishly done, and stylishly produced album with strong melodies and music, heavy riffing and screaming vocals are if not commonplace than at least quite present here. It is a very focused album, at least from those creating it, me on my hand as a listener often loose contact with the album.
This album has three very strong tunes, the opening title track starts it all and builds great expectation that then rarely is fulfilled, For Whom I Bleed?, the best track is Holy is Evil where all the potential and power of the band is released. In these tracks we see the full unchallenged potential of the band, but in between these there is not much to write home about.
I feel that the band may have already reached their career high in their second album, the 2001 effort Fall Into Madness, which was melodic, well made, it had plenty of charm and most important of perhaps all: it had its own unique sound in a genre that was really overfilled at that moment in time. Too bad they did not keep going in that direction, but then again that is not for anyone else to decide, the band took a new road after the quite good 2003 effort Predator of the Empire. This new road has led up to this new album, Carpe DiEnd which is another step forward and actually a hint of something bigger and better from this band in the future.
All in all it is a nice and well done album with a few great songs where the band really shines, but in total the album really fails to take off.
Label - Massacre Records
Three similar bands - Astral Doors/Tad Morose/Insania
Rating: HHHHHHH
Reviewer:
Daniel Källmalm
Recording info:
Recorded at Sonic Train Studios, Gothenburg, Sweden
Simon Johansson & Mike Wead (P)
Band:
Ronny Hemlin (V)
John Allan (G)
Simon Johansson (G)
Johan Löfgren (B)
Peter Morén (D)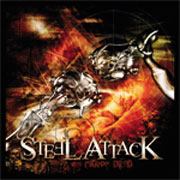 Discography:
Where Mankind Fails (1999)
Fall Into Madness (2001)
Predator Of The Empire (2003)
Enslaved (2004)
Diabolic Symphony (2006)
Carpe DiEnd (2008)