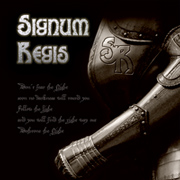 Signum Regis - Singum Regis
Tracks
:
1. Fields Of Stars
2. All Over The World
3. Neverland
4. For Ever And A Day
5. Bright Days Of Glory
6. The Rain
7. Passionate Love
8. The Endless Road (bonus Japan)
9. Mountain Haze (instrumental)
10. Follow The Light
11. The Ten Thousand
12. Sirens Roar

Band:
Göran Edman - lead and backing vocals
Ronnie König - bassguitar
Filip Kolus - guitar
Ado Kaláber - guitar
Ludek Struhar - drums
Ján Tupy - keyboards

Discography:
Debut

Info:
Produced by Ronald König
All vocals produced by Göran Edman
Mixed, recorded, edited and engineered by Ronald König
All instruments recorded at VINDEX studio
Senec, Slovakia/Vienna, Austria in 2007/2008
All vocals recorded at Edman Studio, Värmdö, Sweden
in 2007/2008 by Göran Edman
Mastered by Tommy Hansen at Jailhouse Studio,
Denmark in 2008
Album artwork by Miko Galvánek
www.grafis-sk.com
Booklet design by Ronald and Zuzana König

Links:
signum-regis.com
myspace
Locomotive

Five Slovaks and a Swede is teamed up to make a record, and with that Swede it cannot be anything but a great album. After all, the Swede is Göran Edman, a man that doesn't need any introduction, after all he is one of the best and more famous Swedish rock voices.
There are of course as usual full of interesting information about Ronnie König who started this band to make music in the vein he liked with his type of writing combined with influences of his favourites such as Rainbow and Yngwie Malsteen, the latter is one that Göran has sung for.
Well, musically we can categorise this band as power metal, you know more melodic and speedy heavy metal and for Signum Regis the real emphasis lies on the melodies. Another thing that comes to mind is partly the distinct guitar playing and also the equally distinct vocals by Göran Edman. There are also distinctly audible traces of the bands that is said to be an inspiration to Mr König.
Now that we have all those things out of the box it is time to take a closer look at how Göran and the other of this band handle the task of making a good album. Well, always start with a well; I am of course only making a poor excuse for a joke. Now then, musically there is really nothing at all to complain about, the same is true for the production. Still in all this goodness I am not entirely convinced.
I like it musically and over the more than ten times I have listened to this album so far I have twisted and turned the arguments, the good and the bad. Still it took me a long time to realise the right grading of this record, it is a good one and it has some really good tracks.
The record starts in a convincing way with opening track Field of Stars that is a very good track that promises so much more to come as it is a strong opener but not too strong like it may be on some albums. Problem follows after this track where the flat and unconvincing tracks relieve one another. That is until track five Bright Days of Glory makes an appearance and once again I believe in an excellent record but then it returns to the same dullness. Still, the record ends in an excellent way and that is probably the reason for my willingness to think the record is better than it is.
All in all I am not overly impressed by this album, it sure has these wonderful tracks and great production, but still most of the record just passes unnoticed and the grade is quite clear as there isn't really that much which can make this record take off.
HHHHHHH
Written 08-26-08
Label - Locomotive/Sound Pollution
Three similar bands - Brazen Abbot/Yngwie Malmsteen/Vindex
Rating: HHHHHHH
Reviewer:
Daniel Källmalm