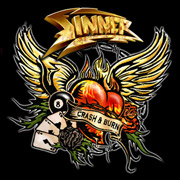 Tracks
1. Crash & Burn
2. Break The Silence
3. The Dog
4. Heart Of Darkness
5. Revolution
6. Unbreakable
7. Fist To Face
8. Until It Hurts
9. Little Head
10. Connection
11. Like A Rock

Band:
Mat Sinner (bass, voc)
Henny Wolter /(guitar)
Christof Leim (guitar)
Klaus Sperling (drums)

Discography:
Wild 'n Evil (1992)
Fast Decision (1983)
Danger Zone (1984)
Touch of Sin Full-length (1985)
Comin' Out Fighting (1986)
Dangerous Charm (1987)
No More Alibis (1992)
Respect (1993)
Germany Rocks (1994)
The Best Of Sinner - Noise Years (1994)
Bottom Line (1995)
Judgement Day (1997)
Treasure (the works 93 - 98) (1998)
The Nature Of Evil (1998)
The Second Decade (Best of) (1999)
The End of Sanctuary (2000)
There Will Be Execution (2003)
Mask Of Sanity (2007)

Info
Dennis Ward (engineer)
Achim Köhler (Mix)
Mat Sinner & Henny Wolter (Prod.)

Links:
matsinner.com/
myspace
afm records

Mat Sinner, well-known writer and musician with many ties to many different bands both as a writer and a guest musician. He is both a musician of his own band Sinner and of power metal band Primal Fear for whom he writes music and plays the bass guitar. For sinner he sings and plays the bass guitar.
Musically the band plays heavy rock with ties back to the eighties, powerful riffs and sing-along choruses in a style that is very typical of that times. Sinner has a very regular sound of the bands from the 80s, and if you have heard Whitesnake, Scorpions, Damn Yankees, Bon Jovi and their likes, Def Leppard, then you know what I am talking about, otherwise it is about what I said in the beginning of this part. Sinner has the classical rock voice with power and no real finesse, which makes in the end result a classical rough style heavy musical style.
We are now quickly moving into my opinion about this. For me it is a bit too standard, nothing really happens, it is powerful and well-played but nothing to make me moved or interested. All the time I play this I find that my mind starts wondering and in the end I realize that I don't even remember what I have just gone through. Musically there is really nothing to complain about, it just the fact that it is so darn uninteresting and unoriginal and I have heard it time and time again. Though I have to say it begins quite alright in the title track that is a powerful rock song but then it takes time and the ending song could almost in the best will be called an almost rock anthem. But no matter how I twist and turn this I can't find it interesting and something worthy to merit my attention, it is good but really nothing more.
I am left with questions, not the good ones but critical questions like why, why make something like this? Why just keep repeating the same thing over and over and over again? These are questions no real good album raise.
I can only assume that Sinner and their fans likes the predictability much like some other bands in the genre, I am not into that sort of thing myself but I am sure that if you like Sinner's earlier works I am completely confident that you will like this as well as it is the same thing.
I however do not care one bit for it, it is just a dull record, good but dull.
HHHHHHH
This review was written at 08-18-2008
Label - AFM Records/Sound Pollution
Three similar bands - Scorpions/Primal Fear/Whitesnake
Rating: HHHHHHH
Reviewer:
Daniel Källmalm