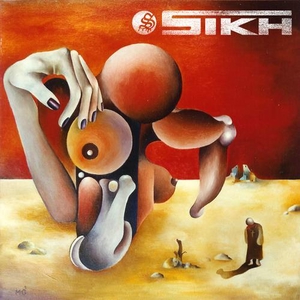 Tracks
1. The Quake
2. 5 Seasons
3. Halcyon Days
4. Hollywood
5. Hammering the Sun
6. Ocean
7. Ballad of the Harmless
8. Psychotro
9. One More Piece
Box My Balls
11. Slaves of the 70's (Wisky)

Band:
Kal (V & G)
Nico (G)
Boz (B)
Gaël (D)

Discography:
Sikh (05)

Credits:
Produced by: Sikh & D8prod.
Engeneering: Sikh & Bill
Mix: Sikh
Mastering: Zoltan Varga
Artwork: Gérard Massabo

Links:
sikh.com
myspace
drakkar


Really, what are the French? The question is legitimate since probably no one has ever understood that – at least not people from outside France. The hardcore act Sikh doesn't bother to do anything they're not. They are French and they play hardcore, end of story. 'One More Piece' is the second album from these guys and comes in a surrealistic cover that almost make Dali seem realistic in his art.
For a hardcore act this also is very good. This is a genre that normally sounds tolerably with band a little all over the place – some OK, some not – but overall you can say that it's a low percentage of bands that rally works for their music. Sikh, however, signs themselves to the small scale of bands that actually tries to achive something musically and not the ones who only plays for free beer and maybe one or two groupies that worship them as gods.
'One More Piece' is a well cutted piece of lumber with songs that all stands strong individually. Here and there it's beautiful melodies, here and there it's enjoyable harmonies and mostly it's a good groove. Honestly, I think that Tony JJ, vocalist of M.A.N would envy the touch of rhythm that Sikh show, because this actually makes you wanna shake it a little. Sometimes they also taks in much more influences than just that typical hardcore sound. There's some System of a Down and Strapping Young Lad madness here and there, some Rage Against the Machine kind of nu-metal and a tad death metal in the edges. It's a mixture of most things from the harder rock and it even allows itself to be a little mad now and then – e.g. the penultimate song Box My Balls.
Personally I feel that Sikh write themselves to the top layer in hardcore. I will say this: I'm perhaps not someone that holds a doctors scholarship in hardcore, but I can say that Sikh beats almost all of the around 40 bands in the genre that I have heard and that can't be seen as something bad – can it?
What Sikh on the other hand can't give me is an answer to the question why French people are as they are and what. Three string benders in dreadlocks and a "drummer of the extreme" will hardly give an answer to any question and especially not to that one. But they are okay anyway.
HHHHHHH
Skriven 2008-11-16
Label - Drakkar/Paris-Berlin Communication
Three similar bands - Mudwayne/Korn/Pantera
Rating: HHHHHHH
Reviewer:
Caj Källmalm