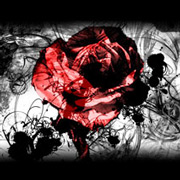 Roses Bleed Thorns - Demo
Tracks
1. Aldrig Vissna
2. Kingmaker
3. Nightmare Parade
4. The Promise of Suicide

Band:
Gestranius (V,G, Programming)
Nordström (B, Synth, G, V, Programming)
Jakobsson (Clean Vocals)

Discography:
Debut

Info
Recorded during April-October @ Janeco Digi-Rec
Technical Producer & Engineer: Johan Nordström
Mixed by Nordström & Gestranius at Janeco Digi-Rec
Produced by Nordström & Gestranius
Arrangements of clean vocals by Jesper Jakobsson

Links:
rosesbleedthorns.com
myspace

The ticket to review this album fell to me, a demo album from some Finish guys. It is always interesting to hear demo albums from aspiring stars.
So, the question is if this band are stars to be or not. I would say it is a possibilty, as we listen to the music it is quite hard and heavy yet very melodic. The band combines aggressive growling with clean vocals and combines electronic styles with heavy riffing. That is as good as I can explain it.
The band's production is very professionally sounding with a very clean sound like the biggest bands in this genre. It sounds more like a "real" record production than a first demo.
Quality wise I think it is rather good, the more extreme kind of metal is not too much of my tea cup but this is quite good as I already have stated. Some of the growling sound a bit ridiculous, however that is outweighted by wonderful melodies and the growling that sounds alright and of course the very good clean vocals. My main reservation against this record is that the clean vocals isn't used more as they are really nice, some of the growling remind me a little of an evil version of Donald Duck which of course is not what you would like to sound like as a singer of a death metal band.
In the end though, this is for a demo one of the absolute best I have ever heard. It sounds very clean and professional, the songs are well written and well performed and I can't really say I have much to complain about which usually isn't the case with demos. With the right backup I think these guys can reach very far, but in today's business it isn't all that easy.
Time will tell, but these guys might have what it takes it is all about being noticed.
HHHHHHH
Label - Demo
Three similar bands - Children of Bodom/Kalmah/Ensiferum
Rating: HHHHHHH
Review:
Daniel Källmalm