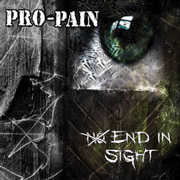 Pro-Pain - No End In Sight
Tracks
1. Let The Blood Run Through The Streets
2. Halo
3. Hour Of The Time (feat. Stephan Weidner)
4. To Never Return
5. Where We Stand
6. Phoenix Rising (feat. Rob Barrett)
7. Go It Alone
8. All Rise
9. God's Will
10. The Fight Goes On
11. Where We Stand (Ream Mix) (Bonus Track)

Band:
Gary Meskil - Vocals/Bass
Tom Klimchuck - Lead/Rhythm Guitar
Marshall Stephens - Rhythm Guitar
JC Dwyer - Drums

Discography:
Foul Taste of Freedom (1993)
The Truth Hurts (1994)
Contents Under Pressure (1996)
Best of (1998)
Pro-Pain (1998)
Act of God (1999)
Round 6 (2000)
Road Rage (Live-Album) (2001)
Shreds of Dignity (2002)
Run for Cover (2003, cover album)
Fistful of Hate (2004)
Prophets of Doom (2005)
Age of Tyranny - The Tenth Crusade (2007)

Links:
pro-pain.com
myspace
AFM records

Sixteen years has gone since the band was born and released their debut in 1992. Of course they are, as all old bands, legends in their genre and the superlatives are filling the promo information. Stuff as them being original and authentic and all of that thing is being said. So how about it? Is it really so? Well, soon you will know.
The genre of this band is called either hardcore or metalcore, something with a core in it anyway. Musically that means just another variety of hardrock. It is heavy an powerful all the way through the album. Vocally it is genretypical with raspy singing and some screamy type vocals, all well performed no doubt on that part. Still all the way through it sounds about the same and the variation throughout this record is close to nonexistant and anyone who knows me know that it is a thing I usually do not like, how it works here you will get to know in a short while.
Well then, lets pass judgement. Firstly I just want to say that this isn't really my genre and Emil Bulls is the only other band I really know and that is a band that I also like better, so you regular reader will know that this means that I will grade this record lower that previously said Bulls record. My main problem is that this album is to stereotypical and also that it lacks really good parts, the songs are much alike and no parts in them are particularly great and that is a major problem. One glimpse of light, or rather a flicker of light is the song called To Never Return which is good all the way to the last part where the song turns to be terribly bad. That song has both sides of fun albums to review but unfortunately the rest of the record is stuck in the part that yells boring over and over again.
With that said I must add that I am quite positive that fans of the band will like this album, so will possibly fans of the genre as well; for the rest of us there is only the option to save our money and buy the latest Ayeron album.
After going through this album over and over and over again I am left with a feeling that I have wasted the time listening to this as I cannot remember what I have just heard. I am left thinking: what record? I haven't heard anything.
HHHHHHH
Written 08-19-2008
Label - AFM Records/Sound Pollution
Three similar bands - Emil Bulls/My Minds Weapon/The Dying
Rating: HHHHHHH
Reviewer:
Daniel Källmalm