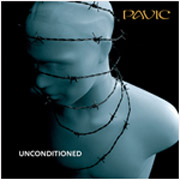 Tracks
1. Miracle Man
2. Trapped
3. Just Go On
4. Ghost In A Trash Machine
5. Creep
6. Fallin' For Love
7. This World
8. Unconditioned Love
9. Ride 'n Run
10. True Sincerity
11. Hidden Sorrow
12. Your Love Is Shining

Band:
Marko Pavic - guitars
Chris Catena - vocals
Aleks Ferrara - bass
Lorenzo Antonelli - keyboards
Marco Madonia - drums

Discography:
Taste Some Liberty (2006)

Guests:
Kee Marcello (Europe) on "Just Go On"
Cristian Murasecchi

Info
Recorded by Fabrizio Frezza, Tobias Lindell, Marko Pavic
Mixed by Tobias Lindell, Mastered by Dragan Tanaskovic
Recorded at One Music - Rome, Italy and Bohus Sound - Kungalv, Sweden
Mixed & Mastered at Bohus Sound - Kungalv, Sweden

Links:
markopavic.com
myspace
anteo records
Just go on (video)
soundclips from all the songs by the band, and discography

Ugly record cover, that was my initial thought. Such ugly covers usually makes me a little hostile towards the records. Otherwise Mr Marco Pavic is from the Balkan but now based in Italy with a band of Italians.
It is not dragonslayer metal with strings and dwarves in liaison with titans and unicorns which is quite common from Italy otherwise, at least it is what I think about. Now, fortunately it is not anything like that. This is guitar driven and very melodic rock/metal with as I already indicated, the emphasis on the melodic side.
This band has a production that accentuates the melodic mood that the record conveys, vocals are greatly mixed into the picture of the musical landscape. I like this record quite much as the melodies speak to me and they remind me of music I grew up with, maybe the tad of nostalgia has something to do with me liking it but I do not think it is that as I have listened through this one more than fifteen times and that is more than enough to form an educated opinion about what the record has to offer.
And it has lots to offer in form of elegant sweeping melodies, smooth and flawless productions and high quality all the way through. The problem though is that this as so many other records either lack variation or it is too long and that is something that has been a problem ever since the CD was introduced and it seems to go on. I'd say better remove one song too many than one too few, better leave the listener wanting more than have him or her being fed up with what is on the record. That is my problem with this record and it lowers the grade by one step.
Well quarries and other stuff put aside, this is a good record, a really good record. But it has the same problem as so many other records and that is a problem that would have been easily solved by removing something like two songs and we would have something completely different, something amazing, less is more in most cases and for Pavic it would have been.
To tie it all together I will only say that this is a very good record, I just wish it was shorter.
HHHHHHH
Written on 10-01-08
Label - Anteo Records
Three similar bands - Rainbow/Deep Purple/Bon Jovi
Rating: HHHHHHH
Reviewer:
Daniel Källmalm