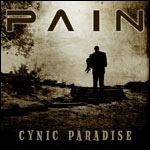 Tracks
1. I'm Going In
2. Monkey Business
3. Follow Me
4. Have a Drink on Me
5. Don't Care
6. Reach Out (And Regret)
7. Generation X
8. No One Knows
9. Live Fast / Die Young (It's a Cynic Paradise)
10. Not Your Kind
11. Feed Us

Band:
Peter Tägtgren (all)

Discography:
Pain (97)
Rebirth (00)
Nothing Remains the Same (02)
Dancing with the Dead (05)
Psalms of Extinction (07)
Guests
David Wallin (member of band live, D on 5)
Michael Bohlin (member of band live, programming)
Johan Husgavfel (member of band live, B on 9)
Anette Olzon (V on 4 & 11)

Links:
pain.cd
myspace
nuclear blast

I'm going in to this review with the usual monkey business of blabbering around about something totally unnecessary for the review. But follow me pass that, let's have a drink on me and just don't care about that bullshit. Let's just jump straight on and reach out (and regret) for how the album sounds. This new album from Generation X man, Peter Tägtgren, that no one knows how it will sound. Is it something that live fast or die young? Maybe this is not your kind so I guess you all thinking "feed us with the information" now and that's just what I'm about to do.
With 'Cynic Paradise', Peter Tägtgren wanted to escape all that complicated mumbo jumbo melodies and over produced material of his last albums. The result was that he also lowered the tempo a bit and made an album with a wider range. Mokey Business is a faster song in the fashion of the last couple of singles, while I'm Going In and Rech Out (and Regret) are two slower ones, almost viscous songs that we haven't actually heard from Tägtgren in a while now.
To me he said he wanted more of an AC/DC or Pantera sound and he thought the last album became somewhat of a valium with those endless hours of hard producing. Sure, I can agree with him, but that album also had some rocket songs that any day in the week can match even the best tracks of this album.
I think the worse songs on this album also can be compared with valium and now and then, I don't just think it's viscous but plain and simply boring. Sure, Pain is just as Peter says more mainstream than most other things he has put his hand into, but I don't think it's there the bullet fail to go off since I don't have anything against mainstream – actually I think that it's quite the opposite here, that it is too little mainstream and a little to harsh march into the unknown wilderness of strange influences. Take Have a Drink on Me for example, it's brave of Peter to make a song with country western tones, taking the riff almost straight of from the song These Boots were made for Walking. But I just don't fancy that, and in m opinion it's just as far away from something called Pain as possible can be (unless he means it should be a pain (in the ass) listening to it. It neither fits with the sound of the album nor with Peters heavy vocals and I just get so happy when the fast Don't Care takes over since that also is one of the best songs on this album.
The two tracks from the new face of Nightwish reminds themselves pretty much of each other, even though they are completely different from each other. Follow Me, which also is the hit single of this album, is a fast and catchy song that goes in, stays a while and then goes out just as quick as most singles in the world. But this one grows with time and maybe it's not as much of an immediate success as for example Zombie Slam from the last album. Feed Us have a much lower tempo and doesn't stick as easily since it's not as catchy, but it is very good and probably stays a little longer afterwards instead.
Overall I'd say this is neither better or worse than anything else that has come from Pain, but it certainly differs a bit from the last two albums and is definitely more fresh. What's left from before is the electro hard rock, the many synth melodies and the industrial sound. Peter still sings in a voice modificator more or less the entire album and that I find pretty annoying the longer it goes on. I guess that's were the golden star falls.
Where 'Cynic Paradice' wins most points is in Tägtgrens enormous ability to make melodies and, off course, in the masterly production. It shall be a true pleasure seeing how these new songs will do live on Pains big tour beginning early 2009.
HHHHHHH
Written on 11-13-2008
Label - Nuclear Blast/Triada
Three similar bands - Marilyn Manson/Slipknot/Neurosonic
Rating: HHHHHHH
Reviewer:
Caj Källmalm