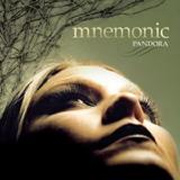 Tracks
01.: Hindsight
02.: Echoes
03.: T.A.P.
04.: Mellow
05.: Quicksand
06.: P.S.
07.: So Close
08.: Souvenir
09.: Palindrome
10.: Suffer

Band:
Brian Stoudt- Guitars, Vocals
Chris Finley- Bass, Guitars, Sampling, and Vocals
Dan Horton- Drums, Sampling, and Vocals

Discography:
debut

Links:
mnemonicmusic.com
findpandora.com
myspace
tiefdruck

Yaaaaaaaaaaaw….zzzzz
Well, that was actually all I was going to write about this record as it is the impression I get when listening to it over and over, all the time I just feel that it is boring, dull or whatever other word you want to use to describe boredom. But, such a thing would not be fair to you who read our reviews and the other things we write and publish and this is why I write a lot more than just a yawning.
Mnemonic are apparently using a well-known and acclaimed producer for their sound, acts like R.E.M. Tool, System of a down all use or have used the same producer, Sylvia Massy-Shivy is the name of this producer. And according the promo sheet they have been a part in someway for the creating of the Deftones album Device.
But no more boredom and boring name calling or name dropping, whatever word you prefer, instead we look at how this band sound. Well, as I said: yawn, and more yawn. It is not creative as we were led to believe, rather in the vein of the more popular era of rock today, not very interesting or creative really and in my opinion it is nothing more than a regular rock album.
Well, it is very well produced and the sound works really well, it is polished enough but still pure enough to avoid the plastic feel of overproduced albums. So, really there is no problems there, it sounds really good, what is really lacking is the skill in song writing. All songs have some doomsday feel or seriousness over them and unfortunately this feel isn't really well driven through the album, the songs all feel moulded through the same mould. Well some songs work better than other, the opener Hindsight is good just because it opens the record and we haven't been bored with similar songs earlier, the track Souvenir is actually very good but as the only shining source of light in an all other dark record, dark, dull and incredibly boring. But all this negative superlatives produced and packaged in a first rate way. It is easy to listen to and possibly easy to like but all in all it is only boring.
Yawn!
HHHHHHH
This review was written at 09-23-08
Label - Tiefdruck Music/Triada
Three similar bands - Nickleback/Puddle of Mudd/Tool
Rating: HHHHHHH
Reviewer:
Daniel Källmalm