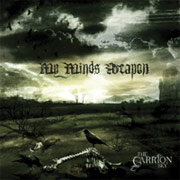 My Minds Weapon - The Carrion Sky
Tracks
1. The Karman Line
2. Silhouettes of Enemies
3. At Least You're Not Dead
4. Alpha Centauri
5. Six-O-Two
6. ... Ex Infernis
7. The Killing Horizon
8. A Sense of Wonder
9. Lucky Like Kokura
10.Goodbyes

Band:
Ben Timpson - Vocals
Dan Goldsworthy -Guitar/backing vox
Mark Holliday - Guitar
Alex Agnew - Bass
Nick Scholey - Drums

Discography:
debut album


Guests
Justin Hill (V)


Info
Produced by Dan Goldsworthy and Nick Sholey with Dan Weller and Justin Hill
Mixed & Mastered by Dan Weller and Justin Hill @ Wellerhill Studios
Engineered By Nick Sholey

Links:
mymindsweapon.com
Myspace
drakkar
basickrecords
Lucky Like a Kokura (video)
The Killing Horizon (video)

My Minds Weapon are among the new league of British metal acts which impress their audience with demanding artistic standards, intelligent lyrics and amazing perfection. At least if we are to believe the promo info that followed the record in the letter from Drakkar. More importantly for me was that the record this time actually was a real record, you know the ones in a real cover with the booklet and stuff, the one that will be in the stores the 28th of November this year. I thank you for that Drakkar, it is a thing that makes this worth doing as I do not earn one bit of money for doing it so a record once in a while always warms the heart a bit.
So, what is it that I have been given? Musically it is a metal, hardcore mix that features elements from all over the place such as jazz, rock, pop and so forth. The singer mixes growling and screaming with soft and clean parts, a great variety of singing styles. It is a band that is clearly difficult to place in one category.
Hailing from Aberdeen these guys are, they show some skill within their music both performance wise and song writing wise. It is clearly a very strong record technically and the production is strong as well. The music comes at you like a strike of the fist through the speakers, the power and also the clearer parts are very well defined all through the ten songs.
Still, I am not completely sold on this record, the lack of a real hit song is disturbing to me and I cannot see the real motivation for this record there, I am often motivated by the hit songs to play the records and this record miss those songs. It is a strong record no doubt and I will probably play it also now that I have handed out my thoughts and judgement about it. I just miss the really strong hit songs that would really lift this interesting record. But also bare in mind that it is a debut album and that the band will probably release more stuff in the future and I am sure these will be more developed and contain the hit song I am missing here.
In the end it is a really good record with ten good song but that really excellent song is missing which really hinders this record from really standing out. Still a big thanks to Drakkar for sending me this, another record that proves that this genre is much better than I thought before I received Emil Bulls record some time ago.
A good and well produced powerful record without weakness but also without hit songs, please remember the hit songs next time guys!
HHHHHHH
Written on 11-15-2008
Label - Basick records/Drakkar
Three similar bands - Pro Pain/S-Core/The Dying
Rating: HHHHHHH
Reviewer:
Daniel Källmalm