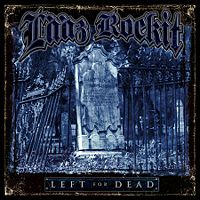 Lääz Rockit - Left for Dead
Tracks
1. Brain Wash
2. Delirium Void
3. Erased
4. My Euphoria
5. Leatherface
6. Ghost In The Mirror
7. Turmoil
8. Liar
9. Desolate Oasis
10. No Man
11. Outro

Band:
Michael Coons V)
Aaron Jellum (G)
Phil Kettner (G)
Willy Lange (B)
Sky Harris (D)

Discography:
City's Gonna Burn (84)
No Stranger To Danger (85)
Know Your Enemy (87)
Annihilation Principle (89)
Nothing'$ $acred (91)
Taste of Rebellion (92)

Links:
laazrockit.com
myspace
massacre records

Lääz Rockit (in Swedefication: Read Rocket) is a thrashband with roots in the eighties (with a debut album from 1984). In the shadow of the bigger thrash bands they've struggled with low sales figures and a weak recognition for their music. Since the New Wave Of Thrash Metal took the genre back a couple of years ago, all you've heard is Exodus, Death Angel, Testament, Anthrax, Megadeth and Overkill pretty much everywhere, but Lääz Rockit have been missed this time too. Now they are once again fresh with a new album, the first release since 1992 which means 16 years of waiting has been endured for absolutely nothing. This is not good. Even though, this is not bad either. This mostly is – without anything more to add.
I liked most of Lääz Rockits six first albums because it was thrash metal that was really different with a unique touch. 'Left for Dead' has absolutely nothing of it's own or anything unique. It just is – without anything more to add. It's so plain and colorless that even a black and white silent movie leaves a bigger audiovisual mark, and a more colorful expression too! I'm not saying that it is a total waste of experience… or yes, that's exactly what I am saying. This is simply straight ahead thrash metal that sounds completely empty of charisma and feelings. I'm not touched at all by this, not in any direction and not the slightest in any way. I don't get any feelings of disgust, no love, no sadness, nor joy, no lust to jump around and bang my head and neither do I get sleepy. It just is – without anything more to add.
Well, I don't want to slaughter Lääz Rockit, because of their discography previous this one that actually sounds really interesting (and should be checked up), but 'Left for Dead' will be left for dead, by me, in the record store. It offers thrash metal as the true definition of thrash metal sounds, but it's just like it's been copied from a number of other acts straight off – some guitars from Exodus, a drum by Slayer, a bass line from Metallica (the old Metallica), two guitarists from Overkill, a vocalist from Testament and a couple of songs by Death Angel. It is OK to be listened at, but it's lacking identity in the size of a bucket filled with white paint – and that's at least not something I aim for to get from my albums. I want red ones, not like this one that only is – without anything more to add.
HHHHHHH
Written on 11-13-2008
Label - Massacre/Sound Pollution
Three similar bands - Exodus/Testament/Overkill
Rating: HHHHHHH
Reviewer:
Caj Källmalm