Hate Squad - Degüello Wartunes
Tracks
1. Degüello Wartunes
2. Rise Up
3. Killing Spree
4. At the End Alone
5. Anger from the Gutter
6. Aggro Manticore
7. Never Surrender...Die Fighting!
8. My War
9. Shank
10. Hannover H8core
11. Rivers of Blood

Band:
Burkhard Schmitt - vocals
Mark Kühnemann - guitars
Martin Blankenburg - guitars
Bauke de Groot - bass
Helge Dolgener - drums

Discography:
Theater Of Hate (1994)
Not My God
I.Q. Zero (1995)
Pzyco!(1997)
H8 For The Masses (2004)

Links:
hatesquad.com
myspace
dockyard1
Biggest shit in the 90´s were grunge and stoner-metal á la Kyuss and Monster Magnet. In the ´00s we´ve had nu-metal and now most recently metal-core. The crowds love it. Critics hate it, I hate the critics and/so who give´s a shit about about who likes what?!
Anyway Hate Squad haven´t jumped the bandwagon, in fact they´ve stayed togehter since 1993, two years before At the Gates released the groundbreaking Slaughter of the Soul. And I have to say I´m impressed with these wartunes. Groovy thrashy metal meets hardcore doesn´t sound too good on paper, or in the screen, but these songs have dynamic and stamina. It can get difficult to get through all the songs but Hatesquad´s got a singer with an impressive range all I have left to say it: actung baby!
HHHHHHH
Label - Dockyard1/Sound Pollution
Three similar bands - Bloodstain//
Rating: HHHHHHH
Reviewer:
Robert Ottosson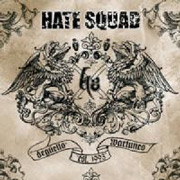 rage1.html