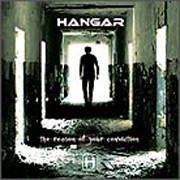 Hangar - The Reason of Your Conviction
Tracks
:
1. Just the Beginning
2. The Reason of Your Conviction
3. Hastiness
4. Call Me in the Name of Death
5. Forgive the Pain
6. Captivity a House With a Thousand Rooms
7. Forgotten Pictures
8. Everlasting is the Salvation
9. One More Chance
10. When the Darkness Takes You

Band:
Nando Fernandes (V)
Eduardo Martinez (G)
Fábio Laguna (K)
Nando Mello (B)
Aquilles Priester (D)

Discography:
Inside Your Soul (2001)
Last Time (1999)

Info:
Produced by Aquiles Priester. Co-produced by Heros Trench, Marcello Pompeu and Fábio Laguna. Recorded at Mr. Som Studios (São Paulo - Brazil) from July 06 until January 07. Engineered by Heros Trench, Marcello Pompeu, Cristiano Schneider and Rafael Lopes. Mixed and Mastered by Tommy Newton at Area 51 Studio (Celle - Germany) March 07.

Guests:
Special Guests: Arnaldo Antunes - track 1, Vitor Rodrigues - tracks 3 and 8 Antoniela do Canto - tracks 1, 4, 8 and 10

Links:
hangar.com
wacken

Hangar, a building for storing or possibly repairing aeronautical vehicles which of course means airplanes.
Why?
Yes, why do someone decide to name his/her band after a building for airplanes? It is strange indeed, can it be because someone in the band is a pilot? The promotion sheet does not say anything to support such a theory so I would believe the reason is some other unknown one.
Still, this is not for reviewing the name but the music so how does this band sound? Sneak a peek at the bands I have named as similar, one from the same nation and the other two the most stereotypical bands I can think of. It is the regular kind of so-called power metal which means riff-based verses, some strong leading melodies, powerful choruses and crystal clean production. A production that is polished to perfection by well-known Tommy Newton at his Area 51 studio.
To be fair, all isn't stereotypical with this band, they do have these spoken words by a female that has a voice that is both enchanting and mystical. The metallic, artificial sound of these spoken-word things really raise the expectations in the beginning as we start with such a track. It is a track that sort of presents a theme for what is to come.
The track following the introduction is the title track and it has a very strong melody, vocal lines and mainly a powerful chorus. It also carries lyrics that refer back to the opening track which is really intriguing. But being impressed with the track is a very short sensation as the album falls into some kind of haze later on and the record somehow just passes without you even noticing it did.
The main problem I have found with this record is that everywhere I turn I hear the melody or part that I have heard from other bands before, it sounds a bit like a scrapbook of song parts from other bands in the genre. That simply means that I cannot find a way into this, it doesn't quite have something that brings you in, that challenge you interest and that sets them apart from the rest out there. Maybe you say that such a thing is not necessary, and maybe it isn't if your consumption is like one new album a month or something, then it may not be as much of a problem, but if you like me have more than a thousand records and receive something like two albums a week, then it is a problem, then you need something that stands out to keep interest. I have listened to this album for like ten times as I do with all albums I review and I find nothing that I can call grabbing, that grabs me into this.
Now, it is of course not all bad, not many albums are. I find especially as I already mentioned, the spoken-word parts interesting as they add something and those are what makes me go back to this album so many times, it is the main reason it doesn't feel overly heavy to listen to this all the time, the title track is also very good but for the rest, it could have been Angra or any of the other bands in the genre, I can think of something like twenty bands that could have done any of the songs here, it just don't stand out and that is a problem.
Unfortunately this is a problem with all the labels still signing mediocre music into an already oversaturated market and maybe, just maybe they should consider harder and discard more bands from their signings. A big marked populated by too many bands that sound like everything else is the main reason people buy less music today, it has lost its appeal thanks to this streamlining.
Hangar is not something that houses aeroplanes, rather lawnmowers.
HHHHHHH
Label - Wacken/SPV
Three similar bands - Angra/Helloween/Hammerfall
Rating: HHHHHHH
Reviewer:
Daniel Källmalm