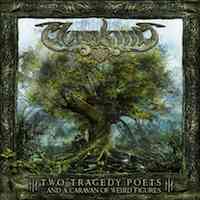 Elvenking - Two Tragedy Poets (…and a caravan of wierd figures)
Tracks
1. The Caravann of Wierd Figures
2. Another Awful Hobs Tale
3. From Blod to Stone
4. Ask a Silly Question
5. She Lives at Dawn
6. The Winter Wake (Acustic Version)
7. Heaven is a Place on Earth
8. My Own Spider's Web
9. Not my Final Song
10. The lackest of My Hearts
11. The Wanderer (Acustic version)
12. Miss Conception

Band:
Damna (V)
Aydan (G)
Gorlan (B)
Elyghen (Kb & Violin)
Zender (D)

Discography:
Heathenreel (01)
Wyrd (04)
The Winter Wake (06)
The Scythe (07)


Info
Martin Buchwalter (mix)
Nino Laurenne (mix)
Achim Köhler (master)

Links:
elvenking.net
myspace
afm records

Wouldn't five poets and a caravan with wierd figures be better since Elvenking have five members in the band and not two? But of course, Elvenking might not be like me and refer everything they say to them selves.
Elvenking is a band I've been following since demo days and I've seen the bands ups and downs. I've followed them in good and bad, interviewed them twice and reviewed all of their releases previous this. This is how I see it – I've not been this happy over an Elvenking album since their glorious debut came and heavily triumphed their demo days. This is Elvenking when the band plays the way they did back in the days I found the band and fell in love with them. They play with joy, creativity, humour, broken Italian English and folk music instruments. In other words, simply perfect Elvenking!
Kleid disappeared, Jarpen left but Elvenking played on and two mediocre albums have followed these divorces: Now Elvenking finally release that wonderful album we've longed for ever since 'Heathenreel' was released in 2001, which been followed by members changing and long interruptions between the albums.
What makes 'Two Tragedy Poets…' so much better than 'The Scythe' and the other albums between this and 'Heathenreel' is probably the fact that the album is acoustic (with drums of course), combined with the fact that the music bubbles with joy – whih can be heard in more or less every song. The strong chorus with lots of different vocals singing into each other as well as heavily usage of classical folk instruments, like flutes, violin and all those kind of things. The complicated verses gets mixed with, literarily, radio pop and hymns and acoustic songs that are much more simple. A song that immediately comes to your mind is the old 80's hit Heaven is a Place on Earth, it definitely works well after Elvenkingization. However, that's far from the best song on the album, here's plenty of great song. Like an acoustic version of the title track from the third album, The Winter Wake, Ask a Silly Question is another one, Miss Conception and of course the first two songs after the intro – Another Awful Hobs Tale and From Blod to Stone. It's just "ooh, piece of candy. Ooh, piece of candy. Ooh, piece of candy. Ooh, piece of candy. Ooh, piece of candy" and so on… There's one or two songs I don't fancy too much, but the album is twelve songs long and 43 minutes. It easy to count the few minutes they last, and even so I'm fairly sure someone likes them even if I don't. They're just not my style. These two songs are also partly responsible for lowering the score, the other part is the vocals that occasionally don't holds the highest quality. Production, mixing, instruments feeling, songwriting and cover are otherwise just fine!
When I hear 'Two Tragedy Poets (…and a Caravan of Weird Figures) I don't miss Jarpen. Damnagoras is doing fine on the vocals, at least he have the feeling that Kleid didn't even if he doesn't have the same register or the English pronunciation. Overall, I think this album stands really good in competition and well worthy to check up! If not for the good music, then to own an acoustic album in your big pile of hard rock.
HHHHHHH
Written on 11/26/08
Label - AFM Records/Sound Pollution
Three similar bands - Skyclad/Rhapsody/Kamelot
Rating: HHHHHHH
Reviewer:
Caj Källmalm