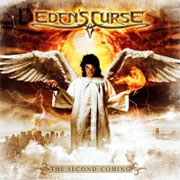 Eden's Curse - The Second Coming
Tracks
1. Reign of Terror (Intro)
2. Masquerade Ball
3. Angels & Demons
4. Just Like Judas
5. Sail On
6. Lost in Wonderland
7. West Wind Blows
8. Signs of Your Life
9. Man Against the World
10. Raven's Revenge
11. Lost Soul, Games People Play
12. Ride the Storm

Band:
Michael Eden - Vocals
Thorsten Koehne - Guitar
Pete Newdeck - Drums
Ferdy Doernberg - Keyboard
Paul Logue - Bass

Discography:
Eden's Curse (2007)
Seven Deadly Sins - The Acoustic Sessions (2008)(EP)

Guests:
Pamela Moore (V)
Tony Harnell (V)
Doogie White (V)
Carsten Schulz (V)


Info
Produced by Dennis Ward


Links:
edenscurse.com
myspace
afm records

Best newcomer 2007, best metal/prog album 2007 are a few of the things this band cant title themselves after being issued these positions by webzines. But that was 2007, it is a whole other year now and the 24th of October we can see the record in the shelves if there are any of those left anywhere . At least we can see it in webshops and maybe iTunes. This, the band's second release is cleverly called The Second Coming.
Lots of names are stated all over the info sheet, Dennis Ward is a known producer within this area of music and he has loads of bands' works on his CV, Tony Harnell from well-known band TNT sings backup to Michael Eden throughout the entire record. Doogie White is another known voice that can be heard on this record, all well-known names, Pamela Moore who's known for here role as Sister Mary on Queensrÿche's unforgettable epic Operation Mindcrime sings a duet with Mr Eden on one of the tracks.
Other funnities about this band can be said that the members are from four nations and two continents. It was created by a Scotsman and an American: Paul Logue and Michel Eden who had a plan to create a band by using the modern technology through internet. They were lately completed by the three remaining members and then quickly received attention and contract from AFM and only 14 months from the band's completion, in August 2007 they released their debut to critical acclaim.
AFM obviously has high regard for this band and they are promoting them with lots of superlatives and noticeably more text than in the most of the promo sheets they send with their records. With that as a backdrop it felt very interesting to get to know this band's second album that is for sale now, only 14 months after the first one.
The cover as well as the name, bare witness of melodies and bombastic parts and as expected that is what is delivered to me when I for the first time start this record on my iPod. I often think of a band like Brazen Abbot when I hear some of this songs and if you have heard them you will know, otherwise TNT might be a decent reference. The band builds their music around strong and pompous melodies with lots a weight on the singing and the guitars. The music can be said to be lodged somewhere between bombastic rock and melodic metal.
Production as a usual when it comes to Dennis Ward, very strong and well-sounding and here there is nothing to complain about. It is polished and grinded to perfection and after that he has dirtied it all for a bit and in the end we will find a well-balanced production that definitely belongs among the best I have heard from Dennish Ward, from any other for that matter.
The record is opened with an intro called Reign of Terror and it is a perfect introduction to the record with interesting parts that pulls us into the music and attaches us there for the first real track that goes by the name of Masquerade and it is a really good track with lots of speed and power along with a good chorus. Angels & Demons is the next track and it is here our Pamela Moore is guest singing in a duet with Michael Eden and even though Pamela have seen here best days this track is really good and now the record really has started in the best of ways. During my third listen a six felt quite close and when the next track which is the BEST track of the record is opened I am sold. Just Like Judas the track is called and it is powerful and catchy speeds through as well as having a melody and chorus that is brilliant. Following this superhit is Sail On which also is great but it is a little of a step back after such a discharge. The rest of the tracks are good and stand for a great quality.
However, there are things that bother me about this record, firstly it is the track Man Against the World, not that the track is bad in anyway, rather the opposite but I do not like preaching tracks and this also seem to be based upon flawed of doubtful facts about man's alleged effect on the climate but I can be wrong about that it has happened (once). Another problem is this everlasting problem about the length of many records, Eden's Curse are really good but the record is too long and the tracks a little to much alike to last all the way through. I would like to see three of the tracks was removed and made the record more focused and powerful. Unfortunately it feels a bit like this record will never end which I think isn't quite true either but it feels like it takes just a little bit too much time to set aside in order to listen and that is too bad for an in every other way fantastic record. Eden's Curse has made the best record that I have reviewed in some time but still it will not reach the second highest grade.
I had almost without reservation praised this record if tracks 6, 9 and 12 were left out and we would have had a record with ten great track. Now we have thirteen great tracks and it is just too much of the good stuff and that is lowering the grade.
Eden's curse possess the damnation of the all too bad on such good record. Though, five points is not to ignore.
HHHHHHH
Written on 11-03-08
Label - AFM Records/Sound Pollution
Three similar bands - Brazen Abbot/TNT/Rainbow
Rating: HHHHHHH
Reviewer:
Daniel Källmalm