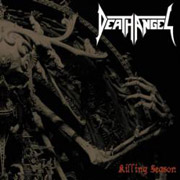 Death Angel - Killing Season
Tracks
1. Lord of Hate
2. Sonic Beatdown
3. Dethroned
4. Carnival Justice
5. Buried Alive
6. Soulless
7. The Noose
8. When Worlds Collide
9. God vs God
10. Steal the Crown
11. Resurrection Machine

Band:
Mark Osegueda - Vocals
Dennis Pepa - bass
Andy Galeon - drums, vocals
Rob Cavestany - guitars, vocals
Ted Aguilar - guitars

Discography:
The Ultra-Violence (1987)
Frolic Through the Park (1988)
Act III (1990)
The Art of Dying (2004)

Guests:
Scott Ian, Brian Posehn (Vocals)

Info
Produced by Nick Raskulinecz
Co-Produced by Rob Cavestany
Mixed by Nick Raskulinecz
Mastered by Brian Gardner

Links:
deathangel.com
myspace
nuclear blast

The angels of death are back again, the guys who doesn't make themselves famous by releasing new albums all the time. The fact is that these guys has released very few albums in comparison to how many years that has passed since their debut back in the eighties.
They are one of those band that arrived back in the eighties, one of those bands from the bay area, they have another heritage as you may read about in our interview but they still originate from the very same area as amongst others: Metallica.
Musically the band stands in the thrash stream, though quite far from the main stream where the thrashy flow is the strongest, this band has cemented a fundament a bit outside this mainstream and stands a little on their own. They use lots of melodies in this new and interesting album, the heavy parts and melodic pieces match each others and balance one another nicely.
As I stated just before I would say that the parts in this balance one another nicely and the record feels very balanced all the way through. As thrash metal goes, this is on the very melodic side and from a very melodic and interesting start it all goes with a very good and powerful yet melodic flow from beginning to end. This is a really powerful record that makes an impact on the listener no matter what your favourite genre is.
Lyrically this record has a very important message all the way through. All songs deal with important subjects such as living in dictatorships, unfairness, war, corruption and other similar subjects are what the band deal with throughout the record. I think this is something that really adds to the record, it adds a dimension of importance and a strong powerful feel to this record. This is a record that is not only good musically, but also lyrically as it deals with important issues that we all ought to think about, react about and maybe deal with.
So even though it is not the best record of the year it may certainly be the most important. It deals with important subjects that we all ought to pay more attention to instead of burying our selves in our own pathetic lives of pointless works for pointless money making. We live in a pointless world and complain about non-issues and pathetic small things when poor people starves in order for some of us to fuel our cars with ethanol, of course that specific thing is not mentioned in the lyrics but a lot of anti-war propaganda and other things important are.
All in all this is maybe the best thrash metal record I have ever heard.
HHHHHHH
Written on 10-15-2008
Label - Nuclear Blast
Three similar bands - Metallica/Exodus/Slayer
Rating: HHHHHHH
Reviewer:
Daniel Källmalm