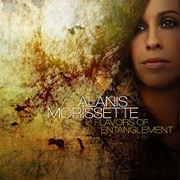 Alanis Morissette
Flavors of Entanglement
Tracks
1. Citizen of the Planet
2. Underneath
3. Straitjacket
4. Versions of Violence
5. Not as We
6. In Praise of the Vulnerable Man
7. Moratorium
8. Torch
9. Giggling Again for No Reason
10. Tapes
11. Incomplete

Credits:
Alanis Morissette – vocals
Guy Sigsworth – production, engineering
Andy Page – guitars, programming, mixing
Sean McGhee – programming, engineering, backing vocals
Blair Sinta – drums
Peter Freeman – bass
Fiora Cutler – string arrangement

Discography:
Alanis (1991)
Now Is the Time (1992)
Jagged Little Pill (1995)
Supposed Former Infatuation Junkie (1998)
Under Rug Swept (2002)
So-Called Chaos (2004)

Links:
alanis.com
myspace
Maverick
Ironic (video on youtube)

Anyone of our readers know of a record called Jagged Little Pill? No? How about songs like You Oughta Know and Ironic? I think you could possibly know one of those and then you might know that this lady is a quite famous singer and songwriter with over 30 million records sold and several hit songs with the possible peak of her career in the mid 90s. She is as I said probably most known for the record Jagged Little Pill from 1995 and if you have heard that one then you have an idea about this record.
As I said, if you have heard the prior records then you have a clue about how this record sounds. It is rooted in the rock music and spans all over from pop to quite heavy stuff. The melodic side is the strong side of this, all songs are crawling with melodies. Another feature that stands out on this record is the singing, she has a quite own sound in her voice, a sound that I have grown to appreciate.
Productionwise we have an impressive record, the sound is wonderful without being overproduced. The sound is elegant and well-produced, and there is nothing to complain about in this department, it hold all elements and combines them into a coherent mass.
The album opens with Citizen of the Planet which is a perfect opener with a chorus that oozes of heaviness and where the voice of Alanis really impresses me a lot. Maybe this record isn't really in the realm of this magazine, but that isn't anything we care about, we review records and don't care that much for arbitrary lines. And in quality this record is definitely worth giving some attention even though some of you readers might not agree with me, but then again why would I care about that?
From the opening track and all the way through I pay attention to the great songs of this record, it has strong songs, powerful vocals, beautiful melodies and just about everything a record of this kind needs to be great. She will probably not sell alot of records with this one, but for me this definitely merits a purchase, I think you ought to try it yourselves.
Right or not right to review in this rock magazine, it doesn't really matter as this is a good record and it stands its own ground no matter where you place it in the scheme of music. Do yourselves a favor and buy this record, I know I will.
HHHHHHH
Written 08-21-08
Label - Maverick/Warner Bros
Three similar bands - Cranberries/Dolores O'Riordan/
Rating: HHHHHHH
Reviewer:
Daniel Källmalm