Nightwish - Dark Passion Play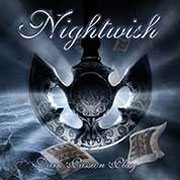 Tracks
:
1. The Poet And The Pendulum
2. Bye Bye Beautiful
3. Amaranth
4. Cadence Of Her Last Breath
5. Master Passion Greed
6. Eva
7. Sahara
8. Whoever Brings The Night
9. For The Heart I Once Had
10. The Islander
11. Last Of The Wilds
12. 7 Days To The Wolves
13. Meadows Of Heaven

Band:
Anette Olzon (V)
Emppu Vuorinen (G)
Jukka "Julius" Nevalainen (D)
Marco Tapani Hietala (B, V)
Tuomas Holopainen (keys.)


Discography:
Once 2004
Century Child 2002
Over the Hills and Far Away 2001
Wishmaster 2000
Oceanborn 1998
Angels Fall First 1997


Guests:
London Session Orchestra - Orchestra
Metro Voices - Choir
Troy Donockley – Uilleann Pipes, Tin Whistle
Nollaig Casey – Irish Fiddle
Senni Eskelinen – Kantele


Recording info:
Recorded at Petrax Studios, Legendary E-Major Studios, Finnvox Studios and Abbey Road Studios between September '06 and March '07.
Produced by T. Holopainen
Co-produced by T. Kinnunen and M. Karmila
Mixed by Mikko Karmila
Mastered by Mika Jussila
Orchestra and choirs arranged, orchestrated and directed by Pip Williams
Conducted by James Shearman

Links:
nightwish.com
myspace
nuclear blast
How will Nightwish handle the loss of brilliant star Tarja Turunen? Hmm, what we don't need is another Tarja, she takes too much place and that voice is more than we can handle. We wanna rock. So they find a woman from Sweden Annete Olzon with a sexy rock voice that won't interfere with the boys' desire to rock.
The songs are ok, there's a lot of good stuff to enjoy on Dark Passion Play. It's easy to hear that the band have potential but the only song that really work for me is For the Heart That I Once Had, Amaranth is also a nice song.
The Dutch armada of symphonic bands sail with greater speed than Nightwish right now. Especially considering the fact that Marco Hietala's, vocals insist confusing the beauty meets darkness concept with beauty meets the noise concept.
Rating: HHHHHHH
Reviewer:Daniel Källmalm
New from Nighwish, well that was a while ago when it felt interesting since the band more and more after Wishmaster decided to use Tarja Turunen's skills as an opera vocalist less and less. That really ended up in the awful Once an album that marked the end of the era with Tarja Turunen as a vocalist. Tarja Was replaced by Anette Olzon from my home country Sweden, not at all a bad choice considering the direction in which the band is moving; she is amazing in Amaranth from the single with the same title and the song which I hold as the top song of the album. A strange note I noticed is the lack of the Amaranth EP's second amazing song called While Your Lips are Still Red, with that song added I would have raised the grade one pinhole, but not now.
Nightwish once again reveal great musicianship and fine song crafting but as a fan of the earlier with tracks like Kinslayer, Angels Fall First, The Beauty and the Beast, Oceanborn and so on, I can't quite take it all in and most of all it is Marko Hietala to blame since I in most part HATE his singing both in Nightwish and in Tarot. If anyone should have had to leave in 2005 it should have been him, still I have to give him some credit since While Your Lips are Still Red from the Amaranth single was sung by him. I have a quite splintered view of this album, it is not as operatic of course as the first three, and still it is atmospheric and symphonic. Symphonic, atmospheric, heavy metal with clear male and female vocals, it doesn't really sound like any other band. It could be way better though, team up with Tony Kakko as a male vocalist and let Hietala stick with the base guitar then with help from Kakko's amazing song-writing we could have the best ever Finnish band, surpassing Sonata Arctica.
The main problem for this album besides Hietala's awful vocal performance is the lack of really interesting songs like Amaranth, it is the only songs that stay with you every other song just falls out of your memory the minute it stops and if it wasn't for the "you're listing to the album-guy" in the middle of all songs I would have probably fallen asleep during some of the songs. The level is quite high but the real edge is missing, there is no kick in the nuts or in the face, there is no "WOW-feeling" or feeling of amazement, it is sort of: "so this is the new Nightwish album."