Gorefest - Rise to Ruin
Clawfinger - Life Will Kill You
Gorefest
Has been named Holland's Entombed, the Swedish death metal pioneers. Which is bullshit. Gorefest are dealing with traditional, groovy death metal, the sound is heavier then ten pregnant hippos and the songs are all above the genre average.
There's no question that these guys eat, shit and drink death. When they played a concert with infamous Deicide in Stockholm the place was bombed but the band just kept playing. They hardly noticed that the placed was bombed…
What separates them from, Entombed, for instance, is the guitarist. He's spending time performing classical beautiful guitar solos that make the band rather enjoyable. The growling? Jan-Chris de Koeijer's voice sounds a bit like a bored male hippo, not exactly dangerous; but not exactly annoying either. His voice melts together and sort of vanishes as the soundtrack to World War Three just keep rolling.

Clawfinger
Clawfinger… let's see, you're thinking rap-metal, Rage Against the Machine, Nigger, one hit wonder… Obviously you have no clue. This Swedish-Norwegian team have had a long and fairly successful career and sold two million records. Life Will Kill You is yet another example of their solid handicraft.
The record was produced in Fear and Loathing studios, which they own together with their partners in crime, Meshuggah. And you sure hell can tell that those guys have been influential on Clawfinger; the riffs are equally crunchy and create a wonderful groove. The downside of this record is the choruses, some of them are too weak and I grow tired of them quickly.
But these are several potential hit songs. My three favourites are cocky None the Wiser (dedicated to Jan Guillou? A Swedish author who probably deserves jail), the haunting and atmospheric semi-ballad Little Baby; last but not least, It's your Life which has a catchy pop feeling kind of reminding me of the Danish disco band Aqua. Next time I want more disco, imagine Roses are Red in a Clawfinger-suite!

label - Nuclear Blast
Three similar bands - see the sides
Rating: HHHHHHH
Reviewer:
Robert Ottosson
Tracks
:
1. Revolt
2. Rise to Ruin
3. The War On Stupidity
4. A Question Of Terror
5. Babylon's Whores
6. Speak When Spoken To
7. A Grim Charade
8. Murder Brigade
9. The End Of It All

Band:
Jan-Chris De Koeijer (V,B)
Boudewijn Bonebakker (G)
Frank Harthoorn (G)
Ed Warby (D).


Discography:
Mindloss (1991)
Live Misery EP (1992)
False (1992)
Erase (1994)
Fear EP (1994)
Soul Survivor (1996)
Chapter 13 (1998)
La Muerte (2005)
Rise To Ruin (2007)


Recording Info:
Mixed by Tue Madsen at Antfarm studios in Århus, Denmark

Three similar bands:
God Dethroned/Entombed/Deicide

Links:
gorefest.nl
myspace
nuclear blast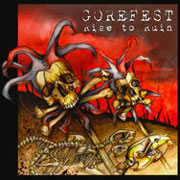 Tracks:

1. The Price We Pay
2. Life Will Kill You
3. Prisoners
4. Final Stand
5. None the Wiser
6. Little Baby
7. The Cure & the Poison
8. Where Can We Go From Here?
9. It's Your Life
10. Falling
11. Carnivore
12. Dying To Know
13. Picture Perfect Skies

Band:
Zak Tell (V)
Jocke Skog (K,V)
Bård Torstensen (G)
Henka Johansson (D)
André Skaug (B)

Discography:
Hate Yourself With Style (2005)
Zeros & Heroes (2003)
A Whole Lot of Nothing (2001)
Clawfinger (1997)
Use Your Brain (1995)
Deaf Dumb Blind (1993)

Three similar bands:
Rage Against the Machine /Rammstein/Meshuggah

Links:
clawfinger.net
myspace