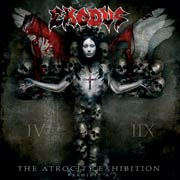 Exodus - The Atrocity Exhibition... Exhibit A
Tracks
:
1. A Call To Arms
2. Riot Act
3. Funeral Hymn
4. Children Of A Worthless God
5. As It Was, As It Soon Shall Be
6. The Atrocity Exhibition
7. Iconoclasm
8. The Garden Of Bleeding
9. Bedlam 123

Band:
Rob Dukes (V)
Gary Holt (G)
Lee Altus (G)
Jack Gibson (B)
Tom Hunting (D)

Links:
exodusattack.com
myspace
nuclear blast
Robert's review

Discography:
Shovel Headed Kill Machine (2005)
Tempo Of The Damned (2004)
Force Of Habit (1992)
Impact Is Imminent (1990)
Fabulous Disaster (1989)
Pleasures Of The Flesh (1987)
Bonded By Blood (1985)

Recording info
Recordet at Sharkbite Studios
Produced by Andy Sneap
American thrash legends Exodus are back with their eight studio album which is imaginatively named to the same thing as a planned Dark Angel album that was planned for 2002, but for some reason wasn't released or made, the story doesn't tell and it really doesn't matter. It is as they say: of academic meaning that first fact, the album in itself doesn't shine from originality, I think that was lost quite some time ago in the genre. Still, that doesn't necessarily mean that the album sucks, not necessarily.
It begins heavy and powerful with slammering drums, guitar bashing and bass abuse of the higher school. And in the beginning it isn't all that bad, for a while it feels quite good. That is only for a while though, the album finds itself turning more and more boring due to the lack of interesting variation and good songs. As the album moves further into its musical road towards boredom (still I would guess that they were going for greatness, you may have guessed that I was to say oblivion or something like that) it more and more falls into the same pattern I can unveil in every band of the genre. I wouldn't say that this album is so very bad but it is so boring and every time I listen to it I start to long for the next album I should play, I start choosing the next album to play only fifteen or so minutes into the album. That can't be taken for a good opinion or sign.
I can not say that the musicians are bad in any way and I wouldn't say that this is a poor album for the genre, it may not be, but I know one more thing it isn't: interesting. To repeat oneself over and over, song after song, that must be boring even for the director was I about to say, guess I said it too; I meant the creative mind(s) of Exodus, to listen to this album. Nothing can change the fact that the running time of this album can't be longer then 10-12 minutes if it is to hold out all the way. It is a sad fact, but a fact nonetheless.
In a way the attitude with the heaviness and the screaming/shouting/yelling/abusive vocals feels interesting and exhilarating, but that emotion subsides rather fast and in the end I find myself planning for what album to hear next, how to do with the website or something else that feel more important than listening to this album. I found it hard to make anything out of the album. I cannot tell you any song names since I couldn't tell the apart and I cant tell you my favourite song since I have none.
I can't take these kinds of albums to hear, they feel only like a big waste of time and resources to have been made and I couldn't even tell you a song title from the album since I don't remember. It is a rather ordinary album that wouldn't place itself very high on the lists of the week.
Exodus need more practise in song writing and playing, maybe then they will know how to create timeless pieces of art. I can't say I liked this album because I didn't, I know I've heard everything many times before in the genre. Though originality isn't everything or even close to that important, even so Exodus falls on their faces in the end, this is boredom personified.
Label - Nuclear Blast
Three similar bands - Metallica/Overkill/Perzonal War
Rating: HHHHHHH
Reviewer:
Daniel Källmalm