Molly Hatchet
Paying Tribute
Label: Collectors Dream Records/Massacre Promotion
Three similar bands: ZZ Top/Blackfoot/The Outlaws
Rating:
HHHHHHH
(4/7)
Reviewer:
Daniel Källmalm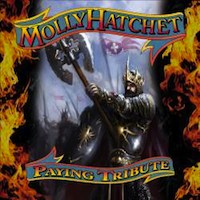 Tracks
1. sharp dressed man (zz top)
2. the boys are back in town (thin lizzy)
3. desperado (eagles)
4. bad to the bone (george thorogood)
5. dreams i'll never see (allman brothers band)
6. melissa (allman brothers band)
7. mississippi queen (mountain)
8. tequila sunrise (eagles)
9. tumbling dice (rolling stones)
10. wild horses (rolling stones)
bonus live tracks:
11. whiskey man
12. beatin the odds
13. flirtin with disaster

Band:
Bobby Ingram - Guitars
John Galvin - Keyboards
Phil McCormack - Vocals
Tim Lindsey - Bass
Dave Hlubek - Guitars
Scott Craig - Drums

Discography:
Molly Hatchet (1978)
Flirtin' with Disaster (1979)
Beatin' the Odds (1980)
Take No Prisoners (1981)
No Guts... No Glory (1983)
The Deed Is Done (1984)
Lightning Strikes Twice (1989)
Devil's Canyon (1996)
Silent Reign of Heroes (1998)
Kingdom of XII (CD - 2001)
Warriors of the Rainbow Bridge (2005)
Justice (2010)

Guests:

Info:
Released 2013-01-18
Reviewed 2013-04-12
Links:
mollyhatchet.com
myspace
last-fm
massacre



Molly with the hatchet is showing us their versions of songs that possible have influenced them, classic songs that we all have heard has been adapted to service Molly. An album that on face value has me a bit confused, a cover album that ends with live versions of three classic Molly Hatchet songs, are they also paying tribute to themselves? That seems excessively arrogant in my opinion, although it is probably just the releasing labels idea to throw in the live songs which is something that adds almost 15 minutes of playing time to the album. Pointless in my not so humble opinion.
Songs by ZZ Top, Eagles, Thin Lizzy, Rolling Stones and a few more has met the hatchet on this album. All songs has morphed into Molly Hatchet sounding songs, meaning sort of southern rock with a hardrock feel to it, with the recogniseable boogie influenced sound. I don't think anyone who has heard the band before can feel lost in the style of this album. The fact that the songs are written by several different bands make the album fairly varied even though it is held together nicely thanks to the similar production, the live songs is a different matter and something I can do without. The ten covers adds up to a playing time of 44 minutes which would have been a great playing time for this album, the live songs makes it nearer the hour which feels a tad on the long side to me. Fairly typical Molly Hatchet sound with a good production is how we can describe this album.
A decent album overall I think, a bit unnecessary though as I don't think I have ever heard a really good cover album. I enjoy covers but I think they are best when being part of a regular album and not in a compilation of covers. I haven't ever been a fan of having live tracks as part of a regular album either, it rarely works and often it just ruins the overall feel with some poorly sounded tracks at the end of what is a good album. The songs on this album are generally good even though the live tracks should have been scrapped before they were even considered for the album. Songs like The Boys are Back in Town and Desperado are so good that not even the attempt of slaughtering them makes them poor songs and there are more good stuff like Sharp Dressed man and Tequila Sunrise which are my favourites on this album. The rest of the tracks are alright but not really noticeable, alright Bad to the Bone is a fun addition as well.
I think you can conclude that the album is okay but not great and nothing you will ever regret not running to the shops and buying, it is not that good. Sure it is fun to hear what influence, inspire and impress Molly Hatchet but it is not like it enriches my life to have done so. Which is why I state that Paying Tribute is a decent cover collection but more of a curiosity than something you really want to hear.
HHHHHHH