LA Guns
Tango on the Sunset Strip
(Hollywood Forever)
Label: Collectors Dream Records/Massacre Promotion
Three similar bands: Cinderella/Hanoi Rocks/Faster Pussycat
Rating:
HHHHHHH
(2/7)
Reviewer:
Daniel Källmalm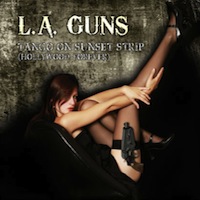 Tracks
01. Hollywood Forever
02. You Better Not Love Me
03. Eel Pie
04. Sweet Mystery
05. Burn
06. Vine St. Shimmy
07. Dirty Black Night
08. Underneath The Sun
09. Queenie
10. Crazy Tango
11. Venus Bomb
12. I Won't Play
13. Requiem (Hollywood Forever)
14. Arana Negra (Black Spider)

Band:
Phil Lewis - vocals
Steve Riley - drums
Stacey Blades - guitar
Scotty Griffin - bass

Discography:
L.A. Guns (1988)
Cocked & Loaded (1989)
Hollywood Vampires (1991)
Vicious Circle (1994)
American Hardcore (1996)
Shrinking Violet (1999)
Greatest Hits and Black Beauties (1999)
Cocked & Re-Loaded (2000)
Man in the Moon (2001)
Waking the Dead (2002)
Rips the Covers Off (2004)
Tales from the Strip (2005)
Covered in Guns (2010)
Hollywood Forever (2012)

Guests:
Junko Lewis - Keyboards, Piano
Kelly Nickels - Bass, Vocals (Background)

Info:
Rod Arias - Language Coach
Conor Jack Carroll - Photography
Julio César Crivelli - Composer, Lyricist
Adam Hamilton - Composer
Andy Johns - Engineer, Producer
Philip Lewis - Photography
Jun Murakawa - Engineer
Carlos "Apple G" Orellana - Engineer
Agustin Pardo - Composer, Lyricist
Mariano Joaquin Repetto - Composer, Lyricist
Ignacio Valdez Rojas - Composer, Lyricist
Dave Schultz - Mastering
Kahla Walkoski - Artwork, Illustrations, Layout
Federico Wiske - Composer, Lyricist
Bruce Witkin - Engineer
Gary Wolf - Composer, Lyricist
Released 2013-03-28
Reviewed 2013-07-08
Links:
laguns.net
massacre



The guns from LA are dancing on the Sunset Strip, at least if we are to believe the title of this album that was released a short while ago through Collectors Dream Records. The parenthesis of this album is the clue to what it really is because if you start to compare with the album that was released last year called Hollywood Forever, the similarities are striking. The songs are the same, only the name and the cover art is different. This album is not even listed on the band's website, perhaps because the one they count as their latest album is the one called Hollywood Forever which is still available to buy where records are sold. The question then arises,
what is the point of this release?
It is not to promote a new take on the album or LA Guns as it sounds like hair metal usually does. It does not sound fresh or new. The production is not fresh either, it sounds a bit like something out of the eighties. I am not surprise what I hear, it is what you can expect. Fourteen tracks and not much variation, almost an hour's playing time which is a bit on the long side. Still, the music is not too bad, quite alright in fact but the music is not really the problem coming to this album, it is the fact that it was already released last year.
So, the question that I have not yet managed to find an answer to is: why? Why do this album? I cannot really see the point of it, and the question is if the band even knows about it as it is not mentioned on the band's website, so one can wonder. I can understand these labels that gives us rereleases of albums that has been out of print for a long time or so, but this album is still sold in record stores and such so there is no point to it. And the question is if the band even gets any compensation for their album, but I suppose they do in some way. Still, however it is, there is just no justification for this album, it is just a waste of my time as I could have been writing about something else had it not been for this strange rerelease.
So if you like LA Guns I think you should buy the album called Hollywood Forever, if you cannot find said album anywhere then possibly you could check this out as it is the same album. Had it not been for the musical quality I would have written this album completely of but even though it is a waste of time and money it is still musically alright. Nevertheless, it is a pointless album that really should have been left undone. In the end the question still remain: what is the point of this album?
HHHHHHH