Eternal Tears of Sorrow
Saivon Lapsi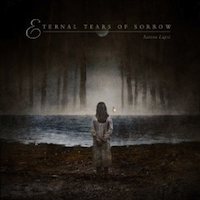 Tracks
01. Saivo
02. Dark Alliance
03. Legion of Beast
04. Kuura
05. Dance of December
06. The Day
07. Sound of Silence
08. Beneath the Frozen Leaves
09. Swan Saivo
10. Blood Stained Sea
11. Angelheart, Ravenheart (Act III: Saivon Lapsi)
12. Swan Saivo - bonus music video-clip

Band:
Altti Veteläinen - vocals and bass
Janne Tolsa - keyboards
Juho Raappana - drums
Jarmo Kylmänen - clean vocals
Jarmo Puolakanaho - guitar
Mika Lammassaari - lead guitar

Discography:
Sinner's Serenade (1997)
Vilda Mánnu (1998)
Chaotic Beauty (2000)
A Virgin and a Whore (2001)
Before the Bleeding Sun (2006)
Children of the Dark Waters (2009)

Guests:
Female vocals by Miriam Renvåg

Info:
Produced by Eternal Tears of Sorrow, mixed by Mikko Karmila
Mastered by Mika Jussila at Finnvox
Cover Artwork by Travis Smith
Professional video clip for "Swan Saivo" by Mutant Koala Pictures
Released 2013-02-22
Reviewed 2013-02-09
Links:
eternaltears.fi
myspace
youtube
massacre



The Finns of Eternal Tears of Sorrow are back with a new album, the seventh in the order of studio albums it will be. It follows almost four years after the latest effort which was well received by us here at Hallowed and it is entitled Saivon Lapsi which is a title that can be referred back to the Saami a people native to the northern parts of Finland, Norway and Sweden, I think also Russia but not sure about that. Anyway, Lapsi is Finnish for child for those who did not know that and I believe Saivon is a made Finnish version of the Saami word sáiva which means something like a holy lake or similar. I might be wrong about the title though but I am quite sure Saivon is not a Finnish word and by looking at the cover I guesstimate that it is something like I wrote but I have no facts really supporting this more than guesswork. By the way, did I say that the cover looks great? it does.
Inside this great cover artwork hides what at first glance is a traditionally styled Eternal Tears of Sorrow album, with its darkish gothic music style and epic feel. The growls sounds very Finnish as usual and there are some Finnish lyrics in there as well, speaking of Finnish, the fact is that the album sounds very Finnish with that sound that only Finnish band seem to find. It is not overly heavy but feels more like a storytelling from the mountains and lakes at the very northernmost part of Finland, excellently produced with a brilliant sound that is modern yet quite powerful. It feels very much like these guys steps on all the right paths to create a high quality product with their seventh album. Compared to their previous album there are many similarities but also many differences with the album as a whole feeling very much like a leap forwards for them.
I would describe this album as a very good album and recommend it to anyone into this kind of music with no reservations, it is a step forwards in quality compared to what they did last time. It is not on one small area they have improved either but over the entire spectrum of their musical palette, this is a stronger album than their last one, period. There is nothing immediately drawing your attention when listening to the album and I think that it is strong all over the line with no big highlight and certainly nothing that can be called a drawback either. It is just an album that is strong in its entirety rather than in small parts of it, I don't think it has a best song as they are all very good.
I would say that Eternal Tears of Sorrow cement their position amongst the best acts in the genre with this album, and they have managed to remain themselves while still evolving their sound which is always a strong feat. And they also stand out as an interesting band with their own style and sound in a time when music is becoming more and more bland and drawn inwards to small mainstream river where most music that comes out ends up. In short I call this a great album and well worth recommending for any fan of this genre and I would not be too surprised if fans of many other genres likes it as well. Saivon Lapsi i certainly a great brainchild of Eternal Tears of Sorrow, you should look it up.
HHHHHHH