Children of Bodom
Halo of Blood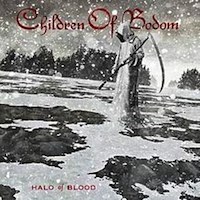 Tracks
1. Waste of Skin
2. Halo of Blood
3. Scream for Silence
4. Transference
5. Bodom Blue Moon (The Second Coming)
6. The Days Are Numbered
7. Dead Man's Hand on You
8. Damaged Beyond Repair
9. All Twisted
10. One Bottle and a Knee Deep

Band:
Alexi Laiho – lead vocals, lead guitar
Roope Latvala – rhythm guitar, bg. vocals
Jaska Raatikainen – drums, backing vocals
Henkka Seppälä – bass guitar, back. vocals
Janne Wirman – keyboards

Discography:
Something Wild (1997)
Hatebreeder (1999)
Follow the Reaper (2000)
Hate Crew Deathroll (2003)
Are You Dead Yet? (2005)
Blooddrunk (2008)
Relentless Reckless Forever (2011)
Holiday At Lake Bodom - 15 Years Of Wasted Youth (2012)

Guests:
Jeff Waters - Guitars (lead)

Info:
Recorded at Danger Johnny Studios, Helsinki, Finland
Peter Tägtgren – producer
Mikko Karmila – engineering
Sami Saramäki – cover art

Released 2013-06-07
Reviewed 2013-06-19
Links:
cobhc.com
myspace
youtube
last-fm
nuclear blast



The children of Lake Bodom are back with a new album, Halo of Blood is the name of this new album. Normally this band is the domain of the brother but I got it so I gave it a go this time. I cannot say that I have been a fan of this band anytime, I remember owning Something Wild which is the band's first album and trading it for another album that I liked better. I have also heard the latter album and though they were better in one way they were also a lot more lacklustre than the previous ones. For some reason fans seem to dislike the direction the band has taken and that it was better in the past. I don't know if it was but I do know that this album brings back the energy, power and spontaneity of the past with some grander scale melodies and bigger arrangement sort of merging the things they did back in the day with the newer stuff.
The production is excellent, strength, cleverness and melodies all rolled into one frame. It sounds like Children of Bodom, yet with a sound that differs slightly from anything before. Someone wrote that they at least made an effort with this album, and maybe they did as it isn't the same lacklustre stuff I recall hearing from albums like Blooddrunk or the previous album. It is also a quite varied album, built around strong and distinctive guitar melodies and also of course the keyboards that builds both atmospheres and keyboard solos. Mostly fast paced with the same croaky vocals as they had before, but there are some variations to the theme this time which is something I like.
I think this is better than anything I have heard from these guys before, the variation is interesting and good for the album but the best and greatest thing is the brilliant opening track. The guitar lines that opens the album can be described a work of art, they are excellent as the song is as well. The following songs may not be as good but the variation of the album still makes it retain my undivided interest and I can play this album over and over many times, it is that good, and catchy. Dead Man's Hand on You is also a new, fresh and exciting thing as it is different from anything these guys have done before. Not the best track though, most other on the album are better but it is still good to see that they are actually evolving a bit as they have been quite static despite moving somewhat away from how they started out.
The album as no real weak points even though I think that the video track Transference is a bit dreary and is something of a low point of the album. But as I pointed out, it is not a bad track. And I also think that we can conclude that this album, with the same reaper will probably be reaping more good reviews and more happy fans than a few of its predecessors and that is at least something if you are a pessimist. But I think this album is well worth recommending to anyone who likes melodic death metal in particular but also to any musical fans as it is a killer album, no doubt about it.
HHHHHHH