Mustasch
Sounds Like Hell, Looks Like Heaven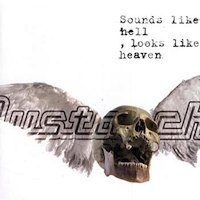 Tracks
01. Speed Metal
02. The Challenger
03. It´s Never Too Late
04. Cold Heart Mother Son
05. Morning Star
06. Dead Again
07. Your Father Must Be Proud Of You
08. Destroyed By Destruction
09. I Don´t Hate You
10. Northern Linkd

Band:
Mats Stam Johansson - Bass
David Johannesson - Guitars
Ralf Gyllenhammar - Guitars, Vocals
Danne McKenzie - Drums

Discography:
The True Sound of the New West (EP 2001)
Above All (2002)
Ratsafari (2003)
Powerhouse (2005)
Parasite! (EP 2006)
Latest Version of the Truth (2007)
Mustasch (2009)

Guests:

Info:
Produced by Ralf Gyllenhammar.
Recorded at Big Jambo Studios, Reikimusic Studios, Berwaldhallen and Northern Link Studios.
All tracks by Gyllenhammar except tracks 3 and 8 by Gyllenhammar/Johannesson and track 9 by Gyllenhammar/The Awesome Machine.
Released 26/10-2012
Reviewed 19/11-2012
Links:
mustasch.net
myspace
youtube
last-fm
eat music
metalville



Moustache is what this band's name means translated, kind of a strange name to name a band after a type of facial hair, I hate facial hair by the way (at least mine). This album has already sold more than gold in Sweden but then it was released a long time ago as well, but it sold gold just a week after the release so it being released since a long time back does not really mean much for that milestone. Mustas ch is a very popular band in Sweden and does really well here, the question is how their music works in Europe. This along with an anniversary album for the band is being released by Eat Music/Flying Dolphin in Europe and it is the band's sixth studio album if I count them correctly and my information is up to date. It is an album called Sounds Like Hell, Looks Like Heaven and for some reason I feel as though they have misplaced hell and heaven in the title at least if you look at the band photos I have seen, or the video of course.
Musically it is what is called stoner metal or something in that style, very heavy metal with energy and commitment. The melodies are prominent yet it gives away a powerful, maybe a tad raw, feel of proper hardrock without any silliness or stupid modernities. It is also an album that is short and to the point with only nine proper track and an ending mock radio traffic report spoken in Swedish. The album as a whole plays just a few minutes past the half hour making a a short and to the point one, at least that is the correct assumption when a heavy metal album is that short. The songs are also quite varied and the vocals on this album really suit this music just brilliantly making this album feel like a quality product made by guys knowing what they are doing. But to know what you do and make a quality production can still make for a dreary album as it is also about the songs, so what about these guys?
They do just great as they do make quality songs as well and the energy and heaviness of the thing makes it one hell of an album. It is hard to find any real flaws in this album as well as everything is very impressively done and nothing feels too out of place or poorly thought out, maybe the ending track is a bit cheesy but who cares after such a charge of an album? I don't, that's who. I think all the nine "proper" tracks are really good but I can still pick favourites in the opening track Speed Metal which is a speedy thing and then the third track Never Too Late which is another nicely slightly speedy thing with oodles of energy which is something that can be said about the entire album.
So, it is perfect then? Well, no it isn't. It is nothing unique and I have heard lots of better albums in my day but it is still a great and entertaining album well worthy of your attention if you like uncomplicated rockin' heavy stuff. I found this one very enjoyable and in a way it feels a bit like I have missed something by never really taking an interest in what they have done, they seem like a rather exciting bands. And I can report that this album does not sound like hell as the title would suggest, but rather is one hell of a good album. Do check it out.
HHHHHHH