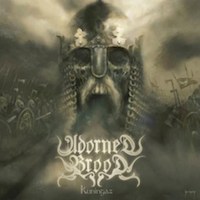 Tracks
01. Einkehr
02. Kuningaz
03. Call of the Wild
04. Victory or Valhall
05. Hugin
06. Men!
07. Kreuzeslast
08. Just a Fight
09. Munin
10. A War Poem
11. We are Legion
12. Totenmarsch 2012 (Bonus Digipak)

Band:
Markus Frost – Vocals, Bass
Thorsten Derks – Guitars
Jan Jansohn – Guitars
Niklas Enns – Keys
Anne Jepsen – Flute
Mischa Kliege – Drums

Discography:
1996: Hiltia
1998: Wigand
2000: Asgard
2002: Erdenkraft
2006: Heldentat
2008: Noor
2010: Hammerfeste

Guests:
Mario Pontigo
Moritz "Mo" Stübing
Florian "Blutaxt" Tamm

Info:
Recorded at the Kohlekeller Studio in Seeheim-Jugenheim, Germany with producer Kai Stahlenberg
Cover art by Kris Verwimp
Released 23/11-2012
Reviewed 13/12-2012
Links:
adornedbrood.de
myspace
youtube
massacre



German sextet Adorned Brood has a rather long history behind them, dating all the way back to the nineties and seven album before this one which happens to be their eighth with a title probably referring to the Germanic kingship. And considering the fact that there are some interesting germanic folk/pagan metal bands out there with possibly Eluveitie as the brightest shining light it is easy to be at least somewhat interested in this album. So what can we expect then?
Folk metal or pagan metal whichever term you prefer is the name of the game. It is extremish metal with folkish additions, some slower folkish passages and many such instrument to garment what is basically a slightly less extreme form of something death metallish. The vocals are either growly or clean, nothing really earth shattering there or in the musical sense as it is fairly typical so-called pagan metal that we get from these guys. It is quite varied and rather well produced and performed but I see nothing that stands out and I ask myself if they are going a little bit on autopilot and not really working to reinvent themselves but make stuff they have tried and tested before. I don't know that however since I have not heard the band before but it feels a bit like they are taking the safer root which makes the music good but nothing really exciting.
If you buy the regular album you will get eleven songs and just under 50 minutes of playing time which is fine I think, the limited edition digipak has an additional track that I have not heard or know how long it is but if the track is not so good it makes the album quite long which it already is. I think that all eleven tracks are good and the album has no real weak point other than the fact that it feels ordinary.
The best track on the album is the one called Victory or Valhall which is a track where they hit all the homeruns and ticks all the boxes because it is just a brilliant track and especially the chorus just blows you away. Other than that track nothing really stands out, just a gathering of good songs that feels a bit made on the safe side that are just not adventurous enough. I think that it is a good album and has a lot going for it but there are a number of albums that are quite a bit better in this genre so I would say that if you are a big fan of pagan metal then this is an album for you, otherwise I would look at Helvetios by Eluveitie before this one. Still a rather good album with some really great stuff as well, although it may not be the album you fight to the end for.
HHHHHHH