Winter's Verge – Tales Of Tragedy
Tracks
1. World Of Lies
2. Old Man's Wish
3. I Swear Revenge
4. For Those Who Are Gone
5. The Captain's Log
6. Envy
7. Dark Entries
8. Madness Once Called Love
9. Tomorrow's Dawn
10. Reflections Of The Past
11. Curse Of Time

Band:
George Charalambous - Vocals
Stefanos Psillides - Keyboards
Harry Pari - Guitars
Miguel Trapezaris - Bass
Chris Ioannides - Drums

Discography:
Another Life...Another End (2006)
Eternal Damnation (2008)

Info
R.D. Liapakis (producer)
Released 29/1-2010
Reviewed 8/2-2010

Links:
wintersverge.com
myspace
massacre

Finnsh band Winter's Verge have just released their second… what are you saying? Are they not from Finland? So where are they from then? Cyprus? Is anyone making metal there? Well then, Cypriote band Winter's Verge have just released their second album which goes by the name Tales of Tragedy. A tale of tragedy from a band who are on the verge of winter, a fitting name maybe considering the winter we've had with temperatures close to minus 40°C. But do they really have winter in Cyprus? I don't think they do so maybe the name is a bit wrong considering that.
Then again if we return to the name it can be considered fitting considering the fact that the band sound very much like a Finnish band, I actually thought they were from Finland until I read the facts about the band. I would not be surprised if they all had records by Stratovarius, Sonata Arctica and Dreamtale in their collections at home. So they are actually a Cypriote band with a Finnish sound.
So how does something Finnish sound? Well Finnish! But really, it is supermelodic with a touch of winter in the music, it is actually hard to describe in words, almost impossible actually. The thing is that it is power metal like with loads of melodies and powerful choruses and yet they have a bit more unconventional keyboards and mood things giving the music a different mood than most power metal, for me it sounds a bit wintery with a touch of snow, if you've heard bands like Stratovarius, Sonata Arctica and Dreamtale you know what I talk about.
I have a positive note for Finnish metal in my mind and I really like some of the bands from there very much. And when I saw the cover of this record the feel of Finland became even bigger as this good looking cover looked both very good and very Finnish. It was a lot of Finland in this review.
The songs of this record are very good and melodic, this record has overall a very good feel to it. The production by Mystic Prophecy's R.D. Lipakis helps with this feel I think, the songs have powerful melodies and powerful choruses. There is 53 minutes of this kind of music and honestly that is the biggest problem this record has, 53 minutes is a bit of a stretch for most types of rock music.
Another problem that I also think manifest itself after listening to this record a few times is the lack of this standout song, the one that becomes the song that makes you grab this record and play it. Maybe if they removed one of the songs this song would magically appear but I don't think so, the songs are a bit too similar, good but too similar.
It is a bit hard to really say a lot about Winter's Verge, they are a good band who has made a good record. But it is only good, it is not special, not magnificent and not really amazing and that is the problem. There are many good record out there, why would I grab just this one. Winter's Verge show promise but they need to write a real hit song to really be able to shine.
HHHHHHH
Label - Massacre Records
Three similar bands - Dreamtale/Mystic Prophecy/Stratovarius
Rating: HHHHHHH
Reviewer:
Daniel Källmalm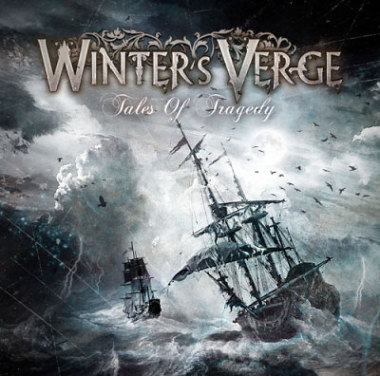 rage1.html