Tracks
01. Satan Is Dead
02. Hell Knows
03. Rise!
04. Pilot Of All Dreams
05. Magic And Technology
06. Calling Down The Rain
07. Caught In The Deadlights
08. I Walk Forever
09. Sleep In The Dark
10. Gone

Band:
Marco Hietala: Lead vocals, bass & acoustic guitars
Tommi Salmela: Samples & Lead vocals
Zachary Hietala: guitars
Janne Tolsa: keyboards
Pecu Cinnari: drums

Discography:
Spell of Iron (1986)
Follow Me into Madness (1988)
To Live Forever (1993)
To Live Again (Live 1994)
Stigmata (1995)
For the Glory of Nothing (1998)
Suffer Our Pleasures (2003)
Crows Fly Black (2006)

Guests:


Info
Recorded in November 2009. Mixed by Janne and Mikko Tegelman. Mastered by Mika
Jussila at the Finnvox Studio in January and February 2010.
Released 23/4-2010
Reviewed 20/5-2010
Tarot is a small band from Finland, created and driven by the Hietala brothers Zachary and Marco. It's also a sort of cards that makes witches and gypsies tell peoples fortune. I'm neither of those, however - I am a hard rock reviewer and pretty well acquainted with the band Tarot that this year is releasing their eighth studio album, this time with the name 'Gravity of Light'.
The last couple of years, Tarot have got some extra attention, due to the success of Nightwish, where vocalist Marco Hietala also plays. Ironically, you might add, since with the world wide success Marco gets with Nightwish, he also gets less time for Tarot. But on the plus side, the experiences from Nightwish have also made much good for Marcos and in the long run Tarots development too. The sound have become better, the material have become stronger and both Marco and the band have improved. To pull up the minuses as well, the band have gone more towards the main stream and become more anonymous in the last few years. So, can 'Gravity of Light' become a combination of both identity and quality?
Sure it can. 'Gravity of Light' is the best Tarot album I've heard for a long time, maybe ever. That's something I say as a reviewer, not a music lover because purely seen to the songs, the earlier albums may have songs that are better than those on this album. At least if you don't count for some important factors like how well they play and sound quality etc. But seen to how they've managed to make it as a whole, I'd say Tarot have made a huge step in the right direction. It's well played, interesting and well produced. But is that enough in a world where the competition is so hard? Well... Sure, it is good songs and it is an album worthy to lend an ear almost any day of the week, But it's probably not that album which will change the world of music and make us all stand speachless for a minute or two only to enjoy.
What I like is Marcos singing, songs like I Walk Forever and Pilot of all Dreams. The cover feels a little Derek Riggs, you know - the guy that has painted covers for Iron Maiden and Stratovarius. What's negative is that even though they've gone through all this betterings and quality improvements, it still feels like an album that lacks that little something. Excellent to listening at, even good, but there are plenty of albums I would play before this, and with more repeats as well, So what should I have this album for, when it comes around?
One thing I can think of is to play it in the car. And to listening at in the background, for example when you do other things like writing reviews. 'Gravity of Light' will probably never be printed in any of my history books. It is good all the way through, and I really don't have anything to nag about - it's just that little something that's missing. So - to you who like good music but doesn't think it's necessary to have songs that hits you like a hammer everytime you hear them, where it's enough when the songs are just plainly good - then you have an album worthy your attention with 'Gravity of Light'. It's simply decent, a little Swedish in that fashion... even though it's Finnish.
HHHHHHH
Label - Nuclear Blast
Three similar bands - Grave Digger/Rage/Wizard
Rating: HHHHHHH
Reviewer:
Caj Källmalm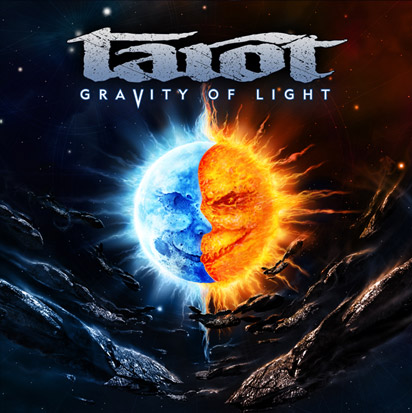 rage1.html