Tracks
1. My Dying Day
2. Rivers Of Blood
3. Destruction
4. Death Gives New Life
5. Rewind
6. Bleeding
7. Tears Of Guilt
8. Inner Peace
9. Divided
10. Alone

Band:
Johnny Johansson - guitar, bass

Discography:
Debut

Guests:
Jonas Kjellgren – Scar Symmetry
Matias Kupiainen – Stratovarius
Marios Iliopoulos – Nightrage
Niklas Stålvind – Wolf
Benny Jansson – Ride The Sky
Eric Rauti – Dreamland
Jonas Hörnqvist – Treasure Land
Tobias Jansson – The Law
Janne Stark – Constancia
Olof Mörck – Nightrage
Peter Huss – Shining
Patrik Johansson - Arise

Info
Produced by Johnny Johansson.
Mixed and mastered at Sonic Train Studios by Andy La Rocque.
Cover art and layout created by Gustavo Sazes.
Released 23/4-2010
Reviewed 24/3-2010

Links:
myspace
suicide records

Well a ruined soul, but most of all my dying day which sounds like a great prospect. Though it seems too much to hope for. Still there is a comedic side to the title since when i think of ruined I come to think of this Family Guy thing (sorry for the quality of the clip but it is still better than MTV):
Joking aside though, musically this is extreme metal of the modern kind with lots of heavy stuff but some more variation than the old primitive stuff. The music and production has a modern feel to it and it is quite heavy most of the time.
I feel quite bored with this record as it doesn't touch me in any way whatsoever. The music of Ruined Soul is rather dull and boring and dull and boring and dull and boring and dull and boring, did I say boring? It feels like I am repeating myself here but it is not a good record really.
No matter how hard I look for something positive I cannot really find it. It is unvaried and not very creative really, it feels like this one man project with guests is a complete waste of resources, it is a useless record.
As you can see from the shortness of this review I cannot figure out much to say about this record, more than keep away.
HHHHHHH
Label - Suicide Records/Sound Pollution
Three similar bands - //
Rating: HHHHHHH
Reviewer:
Daniel Källmalm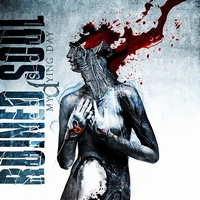 rage1.html