Tracks
1. Empathy
2. All You Need to Know
3. Time to Live
4. To the Metal
5. Rise
6. Mother Angel
7. Shine Forever
8. Deadlands
9. Chasing Shadows
10. No Need to Cry

Band:
Kai Hansen - vocals, guitar
Henjo Richter - guitar, keyboards
Dirk Schlächter - bass, vocals on "No Need to Cry"
Dan Zimmermann - drums

Discography:
Heading for Tomorrow (1990)
Sigh No More (1991)
Insanity and Genius (1993)
Land of the Free (1995)
Somewhere Out in Space (1997)
Power Plant (1999)
No World Order (2001)
Majestic (2005)
Land of the Free II (2007)

Guests:
Michael Kiske - vocals on "All You Need to Know"

Info
Recorded, Mixed and Mastered between May and December 2009 by Dirk Schlächter & Kai Hansen @ High Gain Studios Hamburg
Produced by the Spirit of Freedom: Hellyeah!
Cover painting by: Herve Monjeaud
Artworx and Booklett Design by Alexander Mertsch for glcons
Photos by Axel Jusseit
Released 2010-01-29
Reviewed 2010-09-06

Links:
gammaray.org
myspace

German metal legends Gamma Ray are back, well they were back some time ago but why not still review it anyway? I think it will be well worth the time to do so for our readers even if the record isn't the freshest out there today.
For you who know nothing about Gamma Ray, they are the brainchild of Kai Hansen and was formed after he left Helloween, maybe due to the musical direction of the band or something like that, I don't really know or care. This was however long ago and nowadays the band have several studio albums in their historay, this is actually the tenth studio album by these German guys.
Musically we have some similarities to Helloween of course, but they are musically in the path of the power metal folks but with their own style, this album have some new influences as well the old sound. They actually pull off the trick they usually do which is to reinvent themselves for every album while keeping their sound while they are finding new ways to express themselves, one can say that this album sound of Gamma Ray but it still sounds new and different from what they have done before.
And it is not enough with this reinvention, the album is also very good which is something this band has been constantly releasing great albums so I guess I should not really be surprised that they do the same again. To The Metal could, just glancing at the title, seem like some rubbish heavy metal record with no real feel and no own thinking. To The Metal is however, nothing of the sort, it is a mature and interesting as well as well played and produced album. To the metal is a great album, not extremely fantastic which might have been a bit of a disappointment at first but come to think of it, expectation tend to be set a bit too high for your favourites. Gamma Ray have made one of the best albums this year but not their absolute best album.
I can't help but being impressed with these guys, they make amazing music and consistently release very good to excellent albums and have done so with ten studio albums, Kai Hansen and his guys are just the grand masters of the heavy/power metal genre and they never disappoint. Another impressive thing is that in this band they seem to have more or less equality in which songs come in, each of them have at least one song they have written on this album and the same goes for the past, and each of them have at least one excellent song to show for their song writing skills, I don't really know too many other bands that do so.
Nothing more to add really, it is a great album that is well worth adding to a Gamma Ray collection or why not start one with, there is a treasure out there to fins and now I ran out of superlatives to say so if you have any you may add them here.
HHHHHHH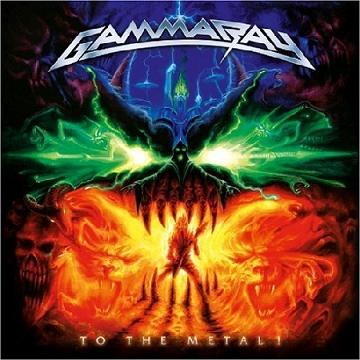 rage1.html